UPSL National Player Of The Week: Las Vegas Mobsters' Edgar Duran
Las Vegas Mobsters Midfielder Had Three Goals vs. Las Vegas City FC in Week 16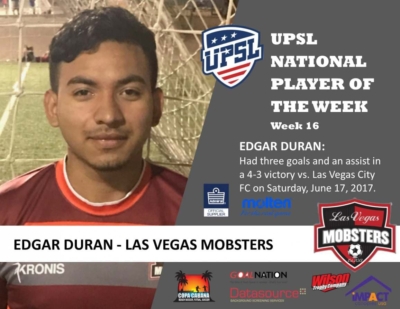 Press Release (ePRNews.com) - LOS ANGELES - Jun 19, 2017 - Las Vegas Mobsters midfielder Edgar Duran has been named UPSL National Player of the Week. The Las Vegas, Nev. native had three goals and an assist in a 4-3 victory over Las Vegas United on Saturday, June 17.
Duran started and played 90 minutes for Las Vegas Mobsters (8-0-0 overall), which remains unbeaten and on top of the UPSL's Pro Premier Division Nevada Conference table with the win.
A Parade Magazine All-American while at Las Vegas' Del Sol High School, and a former United States Men's National Under-17 Team and Real Monarchs (USL) player, Duran has seven goals this season for Las Vegas Mobsters.
The UPSL National Player of the Week is selected each week of the regular season by members of the league and journalists covering the UPSL.
2017 WINNERS
WEEK 1 – Chuck Pitts (L.A. Wolves FC)
WEEK 2 – Shailer Thomas (Colorado Rush)
WEEK 3 – Adan Coronado (Santa Ana Winds FC)
WEEK 4 – Gevorg Karpetyan (L.A. Highlanders FC)
WEEK 5 – Christian Esnal (Ozzy's Laguna FC)
WEEK 6 – German Alfaro (Strikers FC South Coast)
WEEK 7 – Edwin Borboa (La Maquina FC)
WEEK 8 – Colin Clark (Colorado Rush)
WEEK 9 – Lorenzo Vasquez (Real San Jose)
WEEK 10 – Moe Abboushi (Anaheim Legacy FC)
WEEK 11 – Pedro Hernandez (Colorado Springs FC)
WEEK 12 – Marlon Diaz (Magic Valley FC)
WEEK 13 – Alex Dickerson (FC Boulder)
WEEK 14 – Kyle Cunningham (Santa Clarita Storm)
WEEK 15 – Hector Rodriguez (Fort Collins United)
WEEK 16 – Edgar Duran (Las Vegas Mobsters)
United Premier Soccer League
The UPSL was formed in 2011 and currently includes more than 60 teams in Arizona, California, Colorado, Florida, Idaho, Nevada, New Jersey, New York, North Carolina and Utah. UPSL is the fastest growing Pro Development League in the USA, with 80-plus teams targeted for 2018 Spring Season. Each UPSL team is individually owned and operated, and is responsible for maintaining either UPSL Pro Premier Division or Championship Division minimum standards.
UPSL teams are all eligible to participate in the U.S. Open Cup Qualifying Rounds through the leagues affiliation with the U.S. Soccer Federation (USSF) and the United States Adult Soccer Association (USASA).
More information about UPSL can be found at http://www.upslsoccer.com or by following the league on Facebook (http://www.facebook.com/upslsoccer) and Twitter (@upslsoccer).
Contact UPSL:
info@upslsoccernews.com
Direct: 310-415-5691
Media Relations:
Dennis Pope
dennis.pope@upslsoccernews.com
Direct: 951-675-3963
Source :
United Premier Soccer League

Business Info :
United Premier Soccer League - UPSL
18411 Crenshaw Blvd. Suite 150-E Torrance, Ca 90504
Los Angeles, California - 90504 United States
Phone: 310-415-5691
Website:
http://upslsoccer.com