United Premier Soccer League Announces IFX Ballistic as Northern California Expansion Team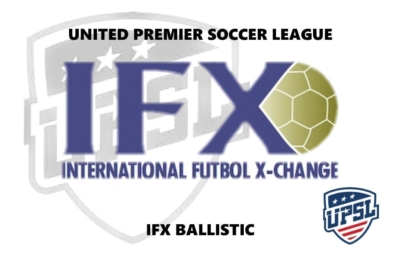 Press Release (ePRNews.com) - LOS ANGELES - Mar 22, 2017 - United Premier Soccer League (UPSL) is pleased to announce that IFX Ballistic will join the league for the 2017 Spring Season.
IFX Ballistic, a Pro Development team in its third year, will play in the UPSL's Northwest Conference starting in the coming weeks.
United Premier Soccer League Commissioner Yan Skwara said, "IFX Ballistic is a quality club from top to bottom, developing young players and moving them up the ranks into the Pro Development stage. The UPSL is a perfect fit for IFX Ballistics' business model at this time as the groomed talent will now have a new home to showcase their skills and hopefully be seen and recognized for even higher levels like MLS or abroad. We look forward to working with the management of IFX Ballistic and Owner Michael Carson, as they are going to be a competitive and tough opponent battling it out in the UPSL Northwest Conference which now is up to nine teams."
IFX Ballistic is led by Owner Michael Carlson, owner of International Futbol X-Change (IFX). Carlson, 38, is a former youth player for Ballistic United Soccer Club and SC Freiburg's academy in Germany.
He began in IFX in 2004, providing education and footballing opportunities to players who want to travel to Germany and other European and South American soccer destinations. He partnered with Ballistic United Soccer Club in 2014 to bring a Men's Pro Development team into the fold.
IFX Ballistic Owner Michael Carlson said, "I grew up playing with Ballistic United so that's how it all started. I got back from Germany and I got with Executive Director of Ballistic United SC Kevin Crow to create something like what I saw and experienced. So now the object of the Men's Team is to provide a serious playing environment for competitive players in the East Bay to continue playing after college."
IFX Ballistic recently claimed the Adult Premier League Spring 2016 and Fall 2016 championships, and Carlson he was surprised to see the UPSL's structure fell in line with his vision for his team.
"We almost cannot believe we found the UPSL. We love this league," Carlson said. "The UPSL has two things we wanted: We want to be challenged more on the field and UPSL's year-long calendar is exactly what we were looking for."
The team will play at Patelco Sports Complex at Bernal Community Park (7001 Pleasanton Ave., Pleasanton, CA 94588). The club will soon announce its upcoming league schedule.
About IFX Ballistic
IFX Ballistic is an American Soccer club currently based in Pleasanton, Calif., and a new member of the United Premier Soccer League. IFX Ballistic will compete in the UPSL's Northwest Conference.
Founded in 2013, IFX Ballistic will participate in the qualifying round for the Lamar Hunt U.S. Open Cup through their affiliation and membership with the UPSL, the U.S. Soccer Federation (USSF) and the United States Adult Soccer Association (USASA).
Contact:
Michael Carlson
Direct: 510-599-4625
Website: https://www.ifxsoccer.com
United Premier Soccer League
The UPSL was formed in 2011 and currently includes more than 50 teams in California, Nevada, Arizona, Idaho, Colorado, New Jersey, New York and North Carolina. UPSL is the fastest growing Pro Development League in the USA, with 60-plus teams targeted for 2017 Spring Season. Each UPSL team is individually owned and operated, and is responsible for maintaining UPSL minimum standards.
UPSL teams are all eligible to participate in the U.S. Open Cup Qualifying Rounds through the leagues affiliation with the U.S. Soccer Federation (USSF) and the United States Adult Soccer Association (USASA).
More information about UPSL can be found at http://www.upslsoccer.com or by following the league on Facebook (http://www.facebook.com/upslsoccer) and Twitter (@upslsoccer).
Contact UPSL:
info@upslsoccernews.com
Direct: 310-415-5691
Media Relations:
Dennis Pope
dennis.pope@upslsoccernews.com
Direct: 951-675-3963
Source :
United Premier Soccer League

Business Info :
United Premier Soccer League - UPSL
18411 Crenshaw Blvd. Suite 150-E Torrance, Ca 90504
Los Angeles, California - 90504 United States
Phone: 310-415-5691
Website:
http://upslsoccer.com