The Brooklyn Cat Café Receives Big Donation From Wellness® Natural Pet Food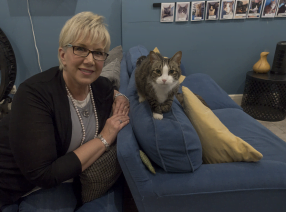 Press Release (ePRNews.com) - BROOKLYN, N.Y. - Apr 25, 2017 - America's Favorite Cat Behavior Expert and Best Selling Author, Pam Johnson-Bennett, joined forces with Brooklyn Cat Café on April 22nd for a very special event. The CatWise Cat Café Tour presented by Wellness Natural Pet Food features Pam as she travels across the country stopping at some of the greatest pet loving cat cafés to share her brand new book, CatWise. Pam had a wonderful turnout at Brooklyn's first and only cat café. In addition to a fun-filled cat-loving evening, Wellness Natural Pet Food donated a generous 1000 meals to the Brooklyn Cat Café to help provide their cats with natural nutrition while they wait to be adopted!
Cat lovers that stopped by the Brooklyn Cat Café on April 22nd had the unique opportunity to meet Pam, the #1 best-selling author of cat books in America, enjoy delicious coffee, check out adoptable cats, and receive freebies from Wellness, all while benefiting this one-of-a-kind non-profit cat café. The CatWise Cat Café Tour presented by Wellness has one very important mission to fulfill: to give back to animals in need.
In its role as presenting sponsor, Wellness is donating 1000 meals to each shelter that is participating in the CatWise Cat Café Tour. That's 8000 meals total! Wellness Natural Pet Food crafts its recipes with carefully sourced, thoughtfully prepared ingredients to make every mealtime count—for pets at home and those in need.
Brooklyn Cat Café is a volunteer-driven nonprofit run by Brooklyn Bridge Animal Welfare Coalition, a 501c3 animal rescue. Home to many adoptable rescue cats, the Brooklyn Cat Café is a resource center to help animals in need. In addition to serving up some delicious coffee, the café plans many educational and fun events including low-cost vaccine clinics, workshops on cat health, behavior & other issues for owners & rescuers, movie nights and more. Learn more about Brooklyn Cat Café at: http://catcafebk.com/. Facebook: https://www.facebook.com/pg/CatCafeBK/.
Pam Johnson-Bennett is the best-selling author of 10 books, including the brand new release, CatWise (Penguin Books, 2016). Pam's best-selling book, Think Like a Cat (Penguin Books), changed the way cat owners view cat training and has been referred to as the "cat bible" by veterinarians, shelters, behavior professionals and cat owners world-wide. Her book, Cat vs. Cat (Penguin Books), was the first of its kind to address the unique needs of households with multiple cats.
In addition, Pam hosted the Nat Geo Wild/Animal Planet show Psycho Kitty, which aired in the UK and Canada. With a career that spans over 30 years, she is considered a pioneer in the field of cat behavior consulting and her books have been used as texts for professional behavior and shelter training.
Pam is a former vice president of the International Association of Animal Behavior Consultants and is the founder and former chair of the IAABC Cat Division. Learn more at: http://www.catbehaviorassociates.com.
Connect Socially:
Facebook: https://www.facebook.com/Pam.JohnsonBennett.
Twitter: @ThinkLikeACat
About Wellness®:
At Wellness, we do whatever it takes to create the healthiest foods for the pets that depend on us. We're a family owned company on a passionate mission to raise the bar in pet food and give pets the gift of healthy and happy lives. That means we use the finest, natural ingredients, ensure the highest quality standards, and create delicious recipes pets crave. In other words, we make sure our passion for pets shines through every aspect of what we do. Like you, we know that our pets provide us unconditional love, and providing uncompromising nutrition is one way we can do the same for them. To learn more about Wellness Natural Pet Food, visit http://www.wellnesspetfood.com.
Connect Socially:
Facebook: https://www.facebook.com/wellnesspetfood.
Twitter: @wellnesspetfood
Instagram: @wellnesspetfood
Source :
Whitegate PR INC