Country Music Star Terri Gibbs Set To Release New Album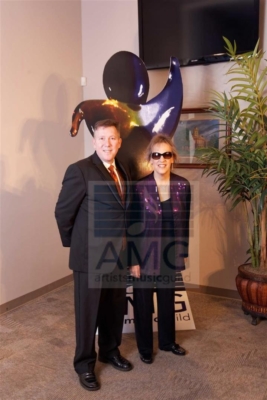 Press Release (ePRNews.com) - AUGUSTA, Ga. - Apr 16, 2017 - We all remember the song "Somebody's Knocking" that catapulted Terri Gibbs to stardom. Terri left country music and transitioned over to her first love which was gospel music. The star said that she found peace in the words of gospel that she had never really found in country. Now it's important to understand that she still loves country music and still performs it from time to time, but for the most part you will find her on the stage of a church or Christian music venue.
Gibbs who was born blind had made a name for herself in her hometown of Augusta, Georgia, but met fellow country music singer and guitar legend, Chet Adkins who convinced her to leave Augusta for the lights and stages of Nashville. After being there for some time she finally hit the country music scene in a huge way in 1981 when she busted the charts wide open with the hit song, "Somebody's Knocking." The song was penned and produced for her by Ed Penny who went on to also write hits for stars like Barbara Mandrell and Dottie West. Gibbs had other songs off of her debut album that also hit the charts cementing her as a country music legend. Gibbs won the Academy of Country Music Award for New Female Vocalist as well as a Country Music Association Horizon Award and a Grammy nomination.
Today Gibbs life is far different from the days of being on the road in a country music setting. Today, she lives in a beautiful home in her native Augusta and plays the piano for her local church when she is not out touring. She also enjoys sharing time with her son David and his new wife Chelsey.
Little did she know that all of that was going to change a bit when she got a call from Christian music star David L Cook who invited her to come and be a part of the AMG Heritage Awards in which they decorated her with the Sandy Hosey Lifetime Achievement Award. Gibbs recalls David telling her that he wanted to pull her back into the mainstream and to put her back on the stage where people would love her as they had always done, but Gibbs was just not sure of such a move. After the two struck up a very close relationship Cook suggested that they work on a new project for Gibbs. They wrote several songs together for the new project and off to the studio they went to record it. Cook produced the album while Elddy Trevino helped to produce the music tracks and engineered the sessions.
Gibbs new album is entitled, "To Sum It All Up," after the title track of the same name written by Cook. The two chose that song because it is not something you would ever imagine hearing Gibbs sing, but it just seemed to have her name all over it. The song pretty much says that there are things that go on in the church and instead of us loving each other for what we bring to the table, we just simply want to try and change people to meet our expectations of what and who we feel they should be.
"To Sum It All Up" is also frosted with familiar tunes such as the standard, "This Old House." Cook felt this song was simply perfect for Gibbs but wanted to change the flavor of it a bit by adding a faster track and a more haunting tone to the melody and rhythm tracks. The end result is magnificent as you hear the multi-layers of Gibbs rich alto voice backed by Cook's very own background vocals. Cook said, "I think we nailed this one right on the head. Terri wanted to scrap this song because of its faster pace but I simply insisted that she at least try it. The rest is history and I think it's personally one of my favorites off of the whole project!"
The album will be available soon through CD Baby and ITunes as well as all of the other available download services. The album is an eclectic look at Gibbs talent and travels through her music career. There is something for everyone on this project and the sounds are crisp and fresh. Gibbs voice is pristine and reminiscent of her days on the country music stages. "If anything, we think her voice is stronger today than it was back then," said Trevino.
http://www.ArtistsMusicGuild.com
Source :
The International Academy of Music Arts & Sciences

Business Info :
Artists Music Guild
PO Box 3196 Monroe, NC 28111
Nashville, Tennessee - 37203 United States
Phone: 615-469-1595
Website:
http://www.artistsmusicguild.com