Valley Forge Music Fair Celebrates Best Of The 70s, 80s and 90s With New Concerts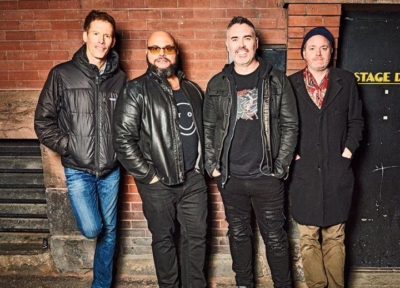 Press Release (ePRNews.com) - KING OF PRUSSIA, Pa. - Apr 21, 2017 - Valley Forge Casino Resort (1160 First Avenue) celebrates the best rock and pop from the 70s, 80s and 90s with four new shows at Valley Forge Music Fair. Get ready to travel back in time for your favorite hits starting with Barenaked Ladies on April 22nd, followed by rocker Eddie Money on May 12th, rounded out by rock-powerhouse Starship featuring Mickey Thomas on June 2nd, and finally, find out "Who's Bad?" with a Michael Jackson tribute on June 16th. The Barenaked Ladies will be in the Event Center and start at 8:00pm, with doors opening at 7:00pm. Eddie Money, Starship with Mickey Thomas and Who's Bad will take place at The Venue starting at 9:00pm, with doors opening at 8:00pm. Tickets for each concert are on sale now and available at Ticketmaster.com.
"Valley Forge Music Fair is a long-standing tradition that has roots dating back to 1955," said VFCR CEO/President Eric Pearson. "Over the last few decades, the ongoing concert series has seen the biggest names in music and comedy grace the stage. These four new concerts will bring the music of four multi-platinum hit-makers to King of Prussia, while celebrating artists that influenced Valley Forge Music Fair in its early days."
BARENAKED LADIES
On Saturday, April 22, 2017, Canadian rock band Barenaked Ladies present a concert experience filled with the kind of energy, precision, finesse and outright celebration their fans have come to expect. The band is still together after nearly three decades, producing 14 studio albums which have collectively sold more than 14 million copies, won eight Juno Awards, earned multiple Grammy nominations, a U.S. chart-topping single ("One Week") and the theme song to one of TV's most popular shows, "The Big Bang Theory." Doors open of The Event Center at 7:00pm and the show starts at 8:00pm. Ticket prices range from $40-$65 and are on sale now at Ticketmaster.com.
The Canadian rock band's latest album, BNL Rocks Red Rocks features some of the multi-platinum band's biggest hits, including "One Week," "Pinch Me, "If I Had $1,000,000" plus songs from their last two records including "Odds Are" which hit #2 at iTunes, and the most recent single "Duct Tape Heart" from their latest album Silverball. The record includes a special moment when Barenaked Ladies accompany Colin Hay to perform his #1 hit "Who Can It Be Now?," joined on stage by Blaise Garza of Violent Femmes to cover the famed saxophone solo, recognized around the world! And in a tradition BNL followers have come to expect, a rousing encore cover of Led Zeppelin's "Rock and Roll" by Tyler Stewart with Ed Robertson on drums.
There's a line in the Barenaked Ladies chart-topping hit, "One Week", that says "Gotta see the show, 'cause then you'll know," that couldn't be more true of the Barenaked Ladies concert experience. For more information, please visit http://www.barenakedladies.com/.
EDDIE MONEY
On Friday, May 12, 2017, New York cop turned rock and roller, Eddie Money will have you rocking like it's 1985. After over 40 years in the music business, the rocker is still as busy as ever. These days, Money continues to delight old and new fans alike at venues throughout the country. Eddie Money performs with the same passion today as he did more than 30 years ago. Doors of The Venue open at 8:00pm and the show starts at 9:00pm. Ticket prices range from $45-$50 and are on sale now at Ticketmaster.com.
STARSHIP FEATURING MICKEY THOMAS
Starship featuring Mickey Thomas will bring their soulful and compelling brand of rock to Valley Forge Music Fair on Friday, June 2, 2017. Backed by the power of Mickey's vocals, Jefferson Starship immediately scored a #1 hit with "Jane." With this new sound and powerful new vocals, the group was renamed Starship and continued to record an amazing string of hits and even grabbed an Oscar Nomination for the #1 hit "Nothing Gonna Stop Us Now" from the movie "Mannequin." Don't miss your chance to rock out with Starship. Doors of The Venue open at 8:00pm and the show starts at 9:00pm. Ticket prices range from $30-150 and are on sale now at Ticketmaster.com.
WHO'S BAD – MUSICAL TRIBUTE TO MICHAEL JACKSON
Who's Bad takes to the Music Fair stage on Friday, June 16, 2017. Who's Bad's live performance is an unrivaled celebration of the King of Pop. Their power-packed performance of Michael Jackson's expansive catalog has ignited crowds on every continent and can only be described as a jaw-dropping, musical must-see. Whether you idolized the Jackson 5, fell in love to Human Nature, or learned to moonwalk to Billie Jean, Who's Bad is THE ULTIMATE music-and-dance driven Michael Jackson homage. This show is a must see tribute for any Michael Jackson fan. Doors of The Venue open at 8:00pm and the show starts at 9:00pm. Ticket prices range from $25-$90 and are on sale now at Ticketmaster.com.
Source :
Valley Forge Casino Resort

Business Info :
Aversa PR & Events
2610 S. Sartain Street
Philadelphia, Pennsylvania - 19148 United States
Phone: 2158409216
Website:
http://www.aversapr.com