DCOTA in Dania Beach Invites Design Professionals & Enthusiasts to SUMMER MARKET 2017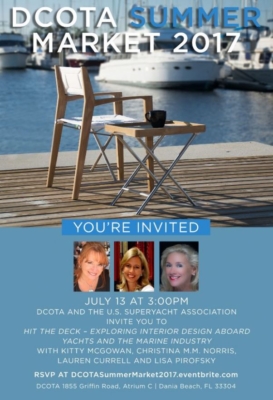 Press Release (ePRNews.com) - DANIA BEACH, Fla. - Jul 12, 2017 - DCOTA in Dania Beach Invites
Design Professionals & Design Enthusiasts to
DCOTA SUMMER MARKET 2017
· July 13 – Hit the Deck: Exploring Interior Design Aboard Yachts & the Marine Industry
· July 20 – Summer Series Education Day
· July 27 – Dine Around DCOTA
(Dania Beach, FL – July 12, 2016) The Design Center of the Americas (DCOTA) is inviting all of South Florida's leading design professionals, students and design enthusiasts to a special three-part DCOTA SUMMER MARKET on three successive Thursdays in July, The fascinating topics will include:
+ July 13 – Hit the Desk: Exploring Interior Design Aboard Yachts &
the Marine Industry
+ July 20 – Summer Series Education Day
+ July 27 – Dine Around DCOTA
Each of the three days will include special presentations from design and marketing professionals, plus product reveals, vendor celebrations, showroom programs and Open House events.
"DCOTA is proud to host this SUMMER MARKET for design professionals," said Leia Bosco, Director of Marketing. "This is an invaluable opportunity for industry insiders to learn current design business strategies, while discovering the latest must-have products and state-of-the-art technologies."
DCOTA's SUMMER MARKET 2017
Thursday, July 13
Keynotes & Presentations
1 pm / Atrium C
International Business Converges in South Florida
3 pm / Atrium C
Hit the Deck: Exploring Interior Design Aboard Yachts & the Marine Industry
DCOTA's Summer Series Education Day
Thursday, July 20
11:30 am to 12:30 pm / Suite C-272
Edelman Leather
Leather for Interiors
Learn how leather is made, how it is used, and how to specify leather. The presentation will review the innate "Green" qualities of leather, as well as the cost and value of good leather.
12:30 to 1:30 pm / Suite C-202
PPM Collections
LED Insights
LED presentation by John Howard from Kitchler, Elan, Dals and Veralux, also a discussion on 120 vs. 12 volt retro fit recesses lights and LED tape light.
3:30 to 4:30 pm / Suite B-108
Crestron
Luxury Project Spotlight:
Discover How Design Meets Technology
Dine Around DCOTA
Thursday, July 27
11 am / Atrium C
Epicurean Exploration
DCOTA's Open House Events
July 13
1 to 5 pm / Suite B-102
E.G. Cody
Visit this showroom to view the new Diamond sofa from Lof's Interior. This sofa features a sophisticated diamond pattern with the use of high quality materials. Select from a large array of sizes and textile combinations, including exceptional leathers selected from the most exclusive Italian tanneries.
July 13 & 27
9 am to 5 pm / Suite A-123
JANUS et Cie
Browse the showroom's expansive collection of design-driven performance textiles—the perfect complement to their exquisite offering of furniture and accessories designed for summer living.
July 13, 20 & 27
9 am to 5 pm / Suite B-216
Inside Out
Step Outside this Spring with Inside Out
Enjoy the beginnings of summer while turning heads with an unparalleled sense of style and design. Stop by this showroom to see the latest in luxury outdoor furniture while enjoying refreshments and treats all day long.
July 13, 20 & 27
9 am to 5 pm / Suite C-370
J.D. Staron Galleries
Jakub D. Staron's 2017 Carpet & Rugs Designs and Color Trend
Check out Jakub's unmatched 2017 Collections in this showroom. As designers and makers of fine rugs, Jakub D. Staron is the current global and leading artist in the carpets and rugs industry. The Staron brand is a B-to-B growing network of 10 showrooms "only to the trade." Jakub has no bounds when it comes to design, making the experience unlike any other. Designers can mix and match any design, manufacturing style and fabric to create a one of a kind piece. Visit this boutique gallery and enjoy light refreshments. Also visit the website at www.jdstaron.com.
July 13, 20 & 27
9 am to 5 pm / Suite C-158
The Shade Store
Stop by and see what is new, and enjoy snacks and refreshments.
July 13, 20 & 27
11 am to 3 pm / Suite C-250
Donghia
See the new Donghia 2017 Collections, including the Alchemy Furniture and Manhattan Muse Textiles. Light refreshments will be served.
About DCOTA:
For 30 years, Design Center of the Americas (DCOTA) has served the design community with the finest campus amenities and showrooms in the industry attracting world-class designers, architects, decorators, dealers and their clients. At nearly 800,000 square feet, DCOTA is the largest design campus of its kind. High design is showcased within over 100 premier showroom locations, catering to any home, yacht or office project. Fine indoor and outdoor furniture, fabrics, flooring, lighting, kitchen, bath, antiques, accessories, appliances, window treatments, decorative hardware, paint and surfacing are just some of the resources found within the center.
DCOTA's prestigious tenant mix includes VERSACE Home at Abitare, AbitareMinotti, Ammon Hickson, Aston Martin Interiors, Baker Knapp & Tubbs, Crestron, DEDON, Donghia, Eggersmann Kitchens, Florense, Janus et Cie, Judith Norman Collection, Kravet, Lee Jofa, Poggenpohl, Roberto Cavalli Home, ROMO, The Shade Store, Wired Custom Lighting and more, collectively representing more than a thousand premier manufacturers from around the world. Based in Dania Beach, DCOTA is conveniently located at 1855 Griffin Road in Dania Beach, right off I-95 and just minutes from the Fort Lauderdale-Hollywood International Airport. For more information, please visit www.DCOTA.com.
DCOTA is part of the Cohen Design Center quartet with sister locations in Manhattan (D & D Building) in West Hollywood, California (Pacific Design Center), and in Houston, Texas (Decorative Center Houston).
Media Contact:
Gary Schweikhart
PR-BS, Inc.
561.756.4298
gary@pr-bs.net
Source :
PR-BS Inc.