MNM Productions Partners with Legends Radio 100.3FM to Promote Stephen Sondheim's COMPANY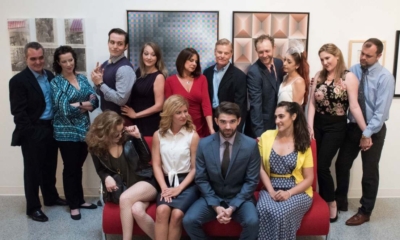 Press Release (ePRNews.com) - WEST PALM BEACH, Fla. - Jul 08, 2017 - MNM Productions Announces Partnership
with Legends Radio 100.3FM to Promote
Stephen Sondheim's COMPANY
Running July 21-August 6 at the
Kravis Center's Rinker Playhouse
(West Palm Beach, FL – July 7, 2017) Marcie Gorman-Althof and Michael Lifshitz, the producing partners behind MNM Productions, one of South Florida's hottest new theatre companies, today announced that they are partnering with Legends Radio 100.3FM to promote their next production, Stephen Sondheim's COMPANY, which will run July 21 through August 6 at the Kravis Center's Rinker Playhouse.
The extensive two-week campaign on Legends Radio 100.3, the popular local FM station that broadcasts classic recordings from the Great American Songbook and founded by long time Palm Beach resident Dick Robinson, will include advertising, promotional announcements, ticket give-aways (both on-air and online), live interviews and more, with particular emphasis on The Morning Lounge with Jill & Rich Switzer and Afternoons with Lorna O'Connell.
One of the best loved musicals by Broadway's preeminent composer/ lyricist, COMPANY will spotlight an all-star cast of 14 South Florida theatre favorites, including Robert Johnston as Bobby, along with Larry Alexander, Amy Miller Brennan, Clay Cartland, Lindsey Corey, Jinon Deeb, Laura Hodos, Nicole Kinzel, Joshua Kolb, Wayne LeGette, Joshua McKinney, Mallory Newbrough, Erika Scotti and Leah Sessa.
Bruce Linser, who directed both Side By Side By Sondheim and The World Goes 'Round for MNM Productions, will helm COMPANY, with the talented Paul Reekie returning as musical director.
Show-stopping musical highlights in Stephen Sondheim's COMPANY include "Another Hundred People," "Getting Married Today," "Side By Side," "Being Alive" and the soul-searing "The Ladies Who Lunch."
Tickets to COMPANY are $45 each and are now available for purchase at the Kravis Center box office, 701 Okeechobee Blvd. in West Palm Beach; by phone at 561.832.7469; or online through the Kravis Center's official website at kravis.org.
The July 20 preview performance of COMPANY will benefit two valuable nonprofit organizations: the Kretzer Piano Music Foundation and The Pap Corps, Champions for Cancer Research, which has raised more than $50 million for cancer research for the Sylvester Comprehensive Cancer Center at the University of Miami Miller School of Medicine.
Other upcoming musicals from MNM Productions include LA CAGE AUX FOLLES (October 6-22) and LITTLE SHOP OF HORRORS, which is being co-presented by the Kravis Center (December 1-17).
About Legends Radio 100.3FM:
Legends 100.3 is a full power live and local FM radio station based in Florida's beautiful Palm Beaches playing the best music ever created. It's the Great American Songbook with artists including Frank Sinatra, Michael Bublé, Ella Fitzgerald, Diana Krall, Harry Connick, Jr., Vic Damone, Jack Jones, Rod Stewart, Tony Bennett, and many more. Legends Radio is fortunate to be independent and locally owned and operated. It was founded by professional broadcaster Dick Robinson with the express purpose to showcase and preserve the greatest music ever recorded and to present the music in a fun, upbeat, and community-focused fashion. Great music. Live local personalities. Frequent public service announcements. For more information, please visit www.legendsradio.com.
About MNM Productions:
This production company is the latest venture by two experienced theatrical producers and arts consultants: Marcie Gorman-Althof and Michael Lifshitz. The rising theatrical company has so far produced four major musical productions (A Chorus Line, Side by Side by Sondheim, HAIR and The World Goes 'Round), three of which received "recommended" status for Carbonell Awards; two (Side by Side by Sondheim and The World Goes 'Round) received nominations for Best Ensemble, with the latter show recently winning the prestigious award. In addition, MNM Productions received The Silver Palm Awards for Outstanding New Theatre Company and Outstanding Ensemble for The World Goes 'Round, while Paul Reekie was named Outstanding Musical Director for The World Goes 'Round and HAIR.
Available for Interview:
Michael Lifshitz
MNM Productions
561.722.4258 / MNMProds@gmail.com
Media Contact:
Gary Schweikhart
PR-BS, Inc.
561.756.4298 / gary@pr-bs.net
Source :
PR-BS Inc.