Flagler Beach Salty Church to Host "Laundry Love" event on March 25th, 2017
Share this: Flagler Beach's Salty Church is hosting a "Laundry Love" event on March 25th in Flagler Beach. #flaglerbeach #saltychurch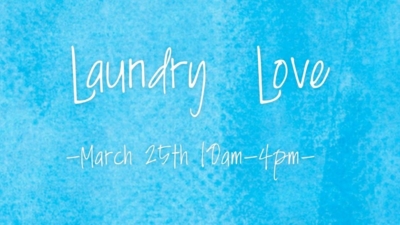 Press Release (ePRNews.com) - PALM COAST, Fla. - Mar 13, 2017 - Salty Church's Flagler Beach campus is hosting a "Laundry Love" event in Flagler Beach on March 25th. "Laundry Love" includes the church and its volunteers providing free laundry washing and drying to anyone that comes by Beachside Laundry between 10:00am and 4:00pm that day. Beachside Laundry is located at 201 South Flagler Ave., Flagler Beach.
"Our goal is to love people by serving them," said Salty Flagler Beach campus pastor Travis Pauley. "We are also going to be serving some food, playing yard games and having a blast getting to know people," Pastor Pauley added.
Anyone interested in volunteering can sign up via the church's Facebook event at https://www.facebook.com/events/753494158160010/.
Salty's mission is to rescue and empower individuals by providing a spiritual framework and building a strong community. Salty's original campus in Ormond Beach launched in 2005 and they minister to approximately 1,400 people each weekend across their three campuses. In 2013, the church launched a New Smyrna Beach campus, and recently added the Flagler Beach campus. They also sponsor ministries in Esterillos and Tamarindo, Costa Rica, as well as several other support programs locally and abroad.
Salty Church Ormond Beach is located at 221 Vining Court. They offer services on Saturdays at 5:30pm, and Sundays at 9:00am, 10:30am and Noon. They also offer a sunrise service at 7:00am at the Granada Beach approach and A1A. The New Smyrna Beach campus is located inside Read-Pattillo Elementary School with services on Sundays at 9:30am and 11:00am. The new Flagler Beach campus is located within the Flagler Woman's Club at 1524 S. Central Ave., and offers services at 9:30am and 11:00am. The Ormond location also offers a student ministry called STAND for children from 6th to 12th grade. Service and gatherings are on Wednesdays at 6:00pm for high school students, and on Thursdays at 6:00pm for middle school students. Salty Church can be reached at 386-615-9180 or www.salty.org.
"Dear children, let's not merely say that we love each other; let us show the truth by our actions." 1 John 3:18 NLT
Source :
Salty Church