Beauty In Heart Launches Line of Stylish Christian T-Shirts to Benefit Ukrainian Orphans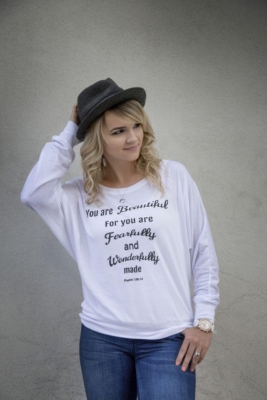 Press Release (ePRNews.com) - NORTH PORT, Fla. - Apr 05, 2017 - Nadia Kostov announced the official launch of Beauty In Heart,
her Christian T-shirt and apparel company featuring verses from the Bible on its fashionable
shirts. Beauty in Heart is one of a growing number of businesses with a social conscience and
Kostov has pledged to donate a portion of all sales to benefit orphans in the Ukraine via a
missionary group working there.
"I want people to be proud of what they wear and feel good
about themselves when wearing my T-shirts," said Kostov.
"Customers can also take 10 percent off their first order."
Kostov launched her boutique brand when she was unable to
locate T-shirts with a meaningful and powerful Christian
message that was also empowering for girls and women. "I
wanted girls to wear these shirts and be proud of what they
were wearing, not because of a fancy label, but because of
the message they carried," said Kostov.
The stylish shirts are available for men and women and
utilize Bible scripture to proclaim the Gospel. Comfortable
and chic, the T-shirts sport proclamations of inspiration,
empowerment, and messages that are applicable in any age
and time. The individual verse and the scripture reference are printed on the back and front.
Shirts are available in small, medium, large and extra-large for both genders. Men's shirts are
offered in black and vintage navy in short-sleeve crew neck styles. The women's shirt collection
is offered in stylish long- and short-sleeved options, along with a racing tank version. Women
can select from crew, scoop and V-neck styles to accommodate a variety of fashion-forward
looks. Colors range from black and white to heather gray.
Soft, comfortable and appropriate for a variety of occasions, Beauty In Heart Christian T-shirts
offer a tasteful and elegant way to inspire and motivate with Biblical sentiments that include "Be
Strong and Courageous," "Faith Can Move Mountains," "More Precious Than Rubies," and
"You Are The Light."
The launch of Beauty In Heart provides men and women with comfortable Christian T-shirts
highlighted with inspirational Bible scriptures to motivate and encourage themselves and others.
Designed for modern men and sophisticated women, the easy care T-shirts are a visual beacon of
hope and a portion of every sale goes to benefit Ukrainian orphans.
About Beauty In Heart
Beauty In Heart strives to shine the light of Jesus wherever we go. By purchasing our apparel,
you will do just that. Comfortably wear a modern, chic, and classy shirt while boldly proclaiming
the Gospel through the gold treasures of the scriptures. Strike up a conversation, show your
values and look great. We have a big desire to help the orphans and have teamed up with a
missionary group in Ukraine and will be donating a percentage of our profits to help change the
lives of orphans there.
Media Contact
Nadia Kostov
Phone: 941-457-0146
Email: info@beautyinheart.com
Website: https://beautyinheart.com
Source :
Beauty In Heart