Becky's Berries LLC Provides Juicy and Healthy Strawberries in Minnesota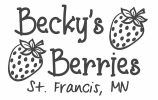 Press Release (ePRNews.com) - United States - Mar 25, 2023 - Becky's Berries LLC offers the best strawberries in Minnesota. Their berries are ideal for making jam, baking delicious desserts, eating fresh, and many more. The company typically utilizes sustainable growing practices. This allows them to provide strawberries that are healthy and free of harmful chemicals. The company has a team of friendly and reliable professionals who are always ready to help clients in any way possible and respond to their queries and concerns.
Speaking about the benefits of strawberry picking, the company spokesperson said, "Here are some benefits of strawberry picking in Minnesota. Strawberry picking allows one to create lasting memories with their family as they can take pictures of their family members as they pick berries and reminisce about the experience for years. It enables clients to teach their kids where their food typically comes from and how it is grown. Moreover, strawberry picking is typically a low-cost way to spend time together with friends and many more."
Interested in strawberry picking in MN? Becky's Berries LLC is a one-stop shop for people to pick their own strawberries in the state. They have a family-owned and operated farm that is just a short drive from the Twin Cities. This makes it the perfect destination for a memorable and fun day of strawberry picking in Minnesota. The company understands that picking usually varies with the weather. That is why, they regularly post the perfect picking dates on their online platform and Facebook page. Besides pick-your-own strawberries, the company provides pre-picked strawberries for clients who prefer to skip the picking process.
Offering insight into how to prepare for strawberry picking, the company spokesperson said, "To be prepared for picking strawberries, clients should check the weather forecast and dress appropriately. One can bring hats and sunscreen to protect themselves from the sun. Moreover, clients need to ensure that they bring containers for the berries they pick. To learn more, clients can consider contacting us."
Becky's Berries LLC offers clients the opportunity to pick their own strawberries and see where their fresh summer produce comes from. Over the years, they have made their farm to become an enjoyable and family-friendly place for all clients. While on the farm, the company ensures clients get everything they need for a successful day of strawberry picking, including helpful tips on picking the best berries and containers for their berries. They pride themselves in providing the highest quality strawberries possible. Those wanting to visit a berry farm in MN can contact the company.
About Becky's Berries LLC
Becky's Berries LLC offers exceptional strawberry picking experience in Minnesota. Whether one is a seasoned pro or a first-time strawberry picker, one can rely on the company. The company ensures that every client gets access to fresh, juicy strawberries straight from the field. Those wanting to go to a strawberry farm in MN can consider contacting the company.
Contact Details
Becky's Berries LLC
7104 253rd Ave NW Saint Francis,
Minnesota 55070
United States
Telephone: (763) 444-3888
Website: https://beckyberriesllc.com/
Source :
Becky's Berries LLC