Berkshire Hathaway HomeServices Florida Network Realty Realtors Complete Ninja Installation Program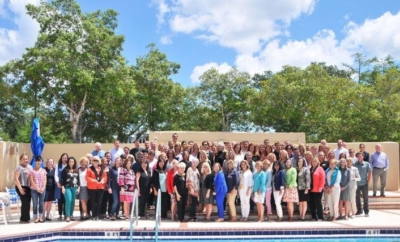 Press Release (ePRNews.com) - JACKSONVILLE, Fla. - Apr 26, 2017 - More than 115 Berkshire Hathaway HomeServices Florida Network Realty Realtors and Brokers recently completed the four-day Ninja Selling Course.
Developed by Larry Kendall and The Group, Inc. Real Estate, Ninja Selling is a system that focuses on bringing exceptional value to clients. The program name, Ninja, was inspired by one of The Group's sales associates, who earned the Ninja nickname because of his work ethic and ability to serve his clients' needs while achieving harmony in his personal life.
"Our company's culture has always focused on putting the needs of our clients first," said Berkshire Hathaway HomeServices Florida Network Realty Founder, President and CEO Linda Sherrer. "Ninja selling provides an exceptional framework and system around this philosophy and will enable our outstanding team of real estate professionals to better serve their clients."
The Ninja philosophy is based on building relationships, listening to the customer and helping them achieve their goals. Ninja Selling is based on a belief in abundance versus scarcity and the power of focused energy and synergy with others. The key to Ninja success is creating value that no one else in the industry can offer.
"Our leadership team attended the four-day installation in San Antonio in February and we immediately knew that this program was a perfect fit for our team," said Broker/Executive Vice President Christy Budnick. "We are trusted advisors to our clients, and that is a huge responsibility and an honor we take very seriously."
More information is available at www.FloridaNetworkRealty.com.
Source :
Florida Network Realty