BEST Inc. Offers IPC Training Materials and Certification Programs to Technicians
BEST Inc. offers IPC-A-610H & J-Std-001H training and provides IPC training materials for student technicians.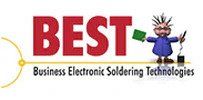 Press Release (ePRNews.com) - Rolling Meadows, IL - Jul 07, 2021 - Business Electronic Soldering Technologies (BEST) Inc. is a solder training company that offers a wide range of IPC certification programs. The company is headquartered in Chicago and has other furnished hand soldering and training centers in Huntsville, Chattanooga, Cleveland, Detroit, and Minneapolis. They also serve as an outsourced solder training center for employees of other companies. In their training programs, technicians are allowed to select their preferred training option. They can either choose in-person training, online training, or BEST Inc's Mobile Training Center (MTC). BEST delivers ample classroom experience to instructors and technicians.
Answering a query, BEST Inc.'s spokesperson commented, "Our training centers are located in every part of the Midwest and South. We are also the industry's only Mobile Training Center, and we provide bespoke BEST courses like PCB rework, hand soldering, and wire and harness assembly. As a PCB rework/repair facility, with our proficient soldering staff, together with their expertise, you can be sure to have a highly comprehensive training experience".
BEST Inc. offers an IPC A-610 certification program to student technicians trained on the Inspection of Assembled PCBs. The master instructors at BEST Inc. are experts in electronics and wire harness assembly, and they are well-able to train all IPC A-610 students. Moreover, IPC A-610 is widely known in the electronics industry. BEST Inc. offers training and certification for IPC-A-610 Instructor CIT, IPC-A-610 Instructor (Recertification) CIT RECERT, IPC-A-610 Specialist CIS, IPC A-610 CSE Subject Matter Expert, and IPC-A-610 Specialist (Recertification) CIS RECERT. Technicians who intend to enroll in the IPC-A-610H training program can contact BEST Inc.
The spokesperson further added, "When it comes to the IPC-A-610 training and certification, there are a few important things companies and technicians should note. These include that their parent companies nominate CIT candidates to undergo rigorous training on IPC-A-610 from a recognized IPC certification center. Candidates receive a certificate as soon as they complete their course and are successful in the examination. Also, candidates can undergo a challenge test with a certification center if they believe the training course is unnecessary for them".
Furthermore, at BEST Inc., they provide various IPC training materials for several IPC certifications. These training materials are essential for IPC A-610 Class – Inspection of Assembled PCBs, J-STD-001 Certification – PCB Assembly Std, IPC-A-620 – Inspection of Wire Harness/Cables, IPC 7711/21- PCB Rework and Repair, IPC A-600 – Inspection of Rigid and Flex Bare Board, among others. Those on the lookout to find IPC training materials can reach out to BEST Inc.
About BEST Inc.:
BEST Inc. provides technicians with IPC training and certification programs. The IPC J-STD-001 certification program they offer involves training with the use of standard training materials and certification. Such a program depicts how dedicated an electronics company and its technicians are to meeting the requirements of their customers. Thus, technicians who want to register for J-Std-001H training can visit BEST Inc's website for more information.
Contact Information:
BEST Inc.
3603 Edison Place – Rolling Meadows, IL 60008
Phone: 847 797 9250
Fax: 847 797 9255
Email: info@solder.net
Website: https://www.soldertraining.net/
Source :
BEST Inc.