BEST, Inc. Provides Instructors and Technicians with IPC Online Training Course, Materials, and Kits
BEST, Inc., an excellence-driven electronics company and training center, provides both IPC online training courses and training materials and kits.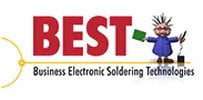 Press Release (ePRNews.com) - Rolling Meadows, IL - Feb 16, 2022 - As a solder training company, Business Electronic Soldering Technologies (BEST) Inc. provides an extensive range of IPC certification programs. By providing high-end IPC materials and solder training kits, they assist student technicians with developing skills that set them apart in the electronics industry. The company has hand soldering and training centers across different locations, which include Chicago, Cleveland, Winston-Salem, Minneapolis, Chattanooga, and Detroit. Technicians who are registered for their IPC training and certification program are also free to select the mode of attendance they prefer, which could be online, in-person, as well as through their Mobile Training Center (MTC).
Answering a query, BEST, Inc. spokesperson commented, "With several training centers all over the Midwest and South, we also are an outsourced solder training company, and we can provide your workforce with recertification courses, and can help train appropriately your new staff members. We offer custom courses such as PCB rework, hand soldering, and wire & harness assembly. Our experience as a PCB rework and repair facility, together with our adept and knowledgeable soldering staff is why we stand out in the industry where we serve".
For about 20 years or more, BEST, Inc. has been providing technicians of other companies with standard IPC certification training in different parts of the United States of America. These include Illinois, Wisconsin, Ohio, Michigan, and Georgia. Many industry experts have participated in their IPC training and solder certification programs, and these programs help companies with expressing to their customers that they work in accordance with stringent quality control practices. Instructors or technicians who would also like to improve their customer retention and services can reach out to BEST, Inc. for their IPC online training course.
The spokesperson further added, "Our training centers are well-equipped and conducive enough to help students concentrate fully on the training sessions. Also, our training centers give you the chance to connect and build business relationships with other technicians in the industry, thereby leading to an entirely productive classroom experience. The sessions of our programs are also well-divided to help students digest and retain whatever is being taught or practiced".
The highly innovative Mobile Training Center (MTC) provided for students by BEST, Inc. offers IPC 7711/21 and IPC J-STD-001 training, and other IPC PCB design training anywhere in the United States of America. And these training programs are handled by certified IPC master instructors. The training center also has a variety of state-of-the-art soldering equipment such as fume extraction equipment, stereo microscopes, and so forth.
About BEST, Inc.:
BEST, Inc. offers wide-ranging IPC training and solder certification programs, as well as IPC training materials and kits to instructors and technicians. Some of their programs include IPC Certification Renewal, IPC Online Certification, J-STD-001 Certification – PCB Assembly Std, IPC A-600 – Inspection of Rigid and Flex Bare Board, IPC A-610 Class – Inspection of Assembled PCBs, and many more.
Contact Information:
BEST, Inc.
3603 Edison Place,
Rolling Meadows, IL 60008
Phone: 847 797 9250
Fax: 847 797 9255
Email: info@solder.net
Website: https://www.soldertraining.net/
Source :
BEST, Inc.