Bienenstock Natural Playgrounds to unveil pop-up park in collaboration with Vancouver Board of Parks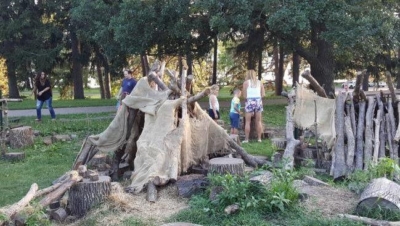 Press Release (ePRNews.com) - VANCOUVER, British Columbia - Apr 12, 2017 - Bienenstock Natural Playgrounds is proud to collaborate with the Vancouver Board of Parks and Recreation, TD Friends of the Environment Foundation, The Children & Nature Network, and The Canadian Wildlife Federation to bring some glorious and messy nature play to Devonian Harbour Park, in the heart of the city. To celebrate the Children & Nature Network's International Conference & Summit, Bienenstock will build a 500 square metre Nature-Play pop-up park filled with hay bales, water, soil, mulch, burlap, twine, logs, and joyful kids building forts, playing hard, and getting dirty. On hand to join in the fun will be some of the top Nature Play experts from around the globe.
The TDFEF Nature-Play pop-up will be ready for play from Easter Monday to Earth Day. On Saturday April 22nd, the materials will make their way across the Lions Gate Bridge to Norgate Community Elementary School where Bienenstock will re-purpose all materials to create their new outdoor classroom and nature play centre.
Bienenstock Natural Playgrounds promotes authentic connections between children and nature across Canada, the United States, and Australia. The company's belief is that the best way to introduce kids to nature in the city is through full sensory experiences with nature itself.
– 30 –
Media Contacts
Afsheen Hasan, Bienenstock Natural Playgrounds
T: 647-234-5415
E: afsheen@naturalplaygrounds.ca
Paxton Barnes, The Children & Nature Network
T: 646-498-1107
E: paxton@childrenandnature.org
Carolyn Scotchmer, TD Friends of the Environment Foundation
T: 416-308-5589
E: Carolyn.Scotchmer@td.com
Mike Bingley, Canadian Wildlife Foundation
T: 613.599.9594
E: mikeb@cwf-fcf.org
Lehran Hache, Vancouver Board of Parks and Recreation
T: 604-257-8472
E: Lehran.Hache@vancouver.ca
Source :
Bienenstock Natural Playgrounds