Bluenose Design on Deck at Navy Crow!
From the icy depths, the new Bluenose T-shirt has arrived at last!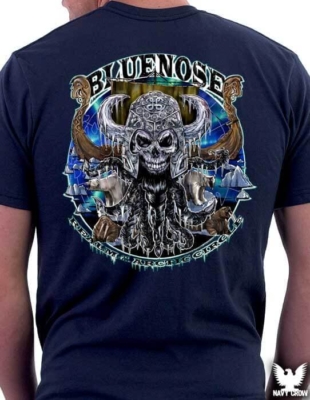 Press Release (ePRNews.com) - SAN DIEGO - May 31, 2017 - The title of Bluenose is awarded to any sailor who crosses the 66-32 latitude into the Arctic Circle. It's a comparatively rare accomplishment, requiring equal parts of "right place" and "right time."
Bluenose means you're not the average, run-of-the-mill sailor: you've sailed through some of the most treacherous waters in the world, with the nearest help hundreds or thousands of miles away.
Navy Crow is giving Bluenose sailors the opportunity to show their Navy Pride by presenting this all-new, not-sold-in-stores design on a t-shirt!
All of Navy Crow's t-shirts are made with 100% cotton, 100% in America. That's right, every single shirt we produce is made right here in the U.S. of A, not in some sweatshop on the other side of the globe.
This design is one that we've received a lot of requests for. Lots of Bluenoses out in the Navy Veteran community have requested to see a new Bluenose design, especially when so many of our Cold War veterans never got the chance to hit the equator.
That said, Navy Crow is always on the lookout for new design ideas. We do custom work for YOUR ship, sub, air wing, or shore command, but we also love getting requests for new designs like this one! Drop us a line at hq@navycrow.com.
CHECK OUT NAVY CROW'S BLUENOSE T-SHIRT DESIGN HERE:
https://navycrow.com/product/apparel/bluenose-arctic-circ…
Source :
Navy Crow