I Will Fear No Evil Shirt available at Navy Crow TODAY!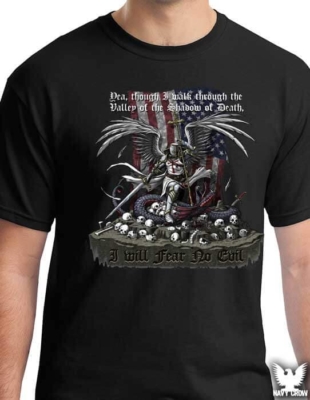 Press Release (ePRNews.com) - SAN DIEGO - Jun 02, 2017 - "Yea, though I walk through the valley of the shadow of death, I will fear no evil."
One of the military's favorite mottos pulled directly from the pages of the King James Bible, Psalm 23:4, this quote has been used by members of the US military Christian and non-Christian alike.
Featured throughout the military as air wing mottos (often with "because I fly the baddest motherf*cker in the valley" affixed to the end), this highly-requested design has been in the works for over a year!
Navy Crow is pleased to offer the opportunity to wear this motivational quote on one of our best-selling t-shirts with a new design from our top-notch artists!
As always with our t-shirts, they're available in both Men and Ladies' sizes and they're printed on 100% cotton, 100% in the United States. We don't compromise quality, why should you?
This design was requested heavily by members of our Facebook, Pinterest, and Instagram pages. We love receiving requests like these because they turn into amazing shirts!
Drop us a line at hq@navycrow.com and we'll make your design idea a reality!
Check out the Fear No Evil shirt here:
https://navycrow.com/product/apparel/psalm-i-will-fear-no…
Source :
Navy Crow