Boston-Based Educational Company Teaches through Experiential Learnig and China Trip
Knovva academy redefines global learning with a unique program for high school students from around the world.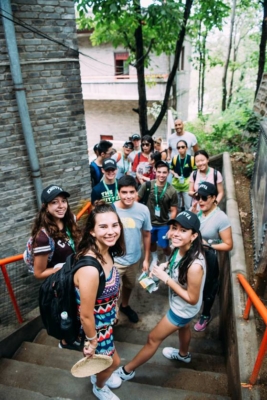 Press Release (ePRNews.com) - CAMBRIDGE, Mass. - Aug 31, 2017 - August marked the completion of Knovva Academy's first full-term global social innovation program for teens. The term, consisting of a Model G20 summit and a Model G20 extension program, was developed to provide students with opportunities to learn with their international peers in hopes of creating a world where cultures and nations can collaborate with ease.
The extension program, entitled Global Sustainability in Action expanded on February's Model G20 Youth Leadership Summit by inviting previous students to further investigate the core topic covered in the Model G20. Featuring curriculum focused on global sustainability issues, students were sent on a field research trip to investigate one of the most populated countries in the world, China. In groups, students examined the industrial landscape of well-known Chinese cities to later build a case for necessary environmental change at the bureaucratic, scientific or operational level. At the end of the program, each group explained what changes they recommend and how they would implement that change without harming economic progress.
"The thing that really stood out to me during my trip to China was what I had learned while doing the research for my project. As my group and I focussed on water pollution, we were able to see how the water pollution had a major effect on the poorer population throughout China. This stood out to me so much that it was actually what influenced part of my solution," said attendee Cameron Tullie from Xaverian Brothers High School in Massachusetts.
Cameron's team, Acqua, took home top-prize in the program with their proposal to create cleaner drinking water. Their proposal included the addition of sanitation facilities fueled by clean energy and also reduced plastic bottle usage by over 50% in 50 years by improving tap water safety, thus reducing the need for bottled water. Cameron and his team won a full scholarship to Knovva Academy's 2018 Model G20 Youth Leadership Summit next winter in Boston.
Another group, IGWIS, turned their focus to overflowing garbage facilities with their plan to increase recycling awareness throughout China with mass media campaigns that would teach locals the basics of recycling. This coupled with more visible recycling receptacles and a larger fleet of recycling trucks tackled the problem of overflowing landfills in the area.
Between lesson that furthered academic and social growth, students participated in field research, dined on traditional Chinese food and toured great cities like Beijing and Qingdao. From the Great Wall to the Forbidden City and even a guided tour of Confucius's home town, the students returned back to their home countries with a greater understanding of the world around them from a business, political and social perspective.
"More than anything I think this trip helped me not just in my life after and before college but rather my whole life. It was an experience of a lifetime that showed me things about others cultures and people, how they acted, the traditions and the history of the second largest economy. This experience will influence my view on world politics, including environmental and economic sustainability," said Tullie.
Last year's Model G20 included inspirational speeches from Jonathan Fantini who made the Forbes 30 Under 30 list and Eugene Scott who can also be seen anchoring for CNN. Other activities included lectures and lessons on topics relevant to the real G20 along with workshops that helped students prepare for the final debate and future educational endeavors.
About Knovva Academy:
Knovva Academy is inspired by the opportunity to prepare the next generation of young people to become engaged learners who pursue their own passions. Knovva Academy believes that by crossing national, cultural, and disciplinary boundaries, young people will increase their capacities to engage with real-world challenges, and ready themselves to be proactive thinkers and doers in the twenty-first century.
As this year continues, Knovva, recently expanded its walls with an office upgrade and a move into the up-and-coming Seaport District in Boston. Knovva also welcomed dozens of new hires who are all passionate about changing the landscape of education. Both past and upcoming programs can be viewed in more detail at http://www.knovva.com.
Source :
Knovva Academy