NFC Academy is offering Online Homeschooling Program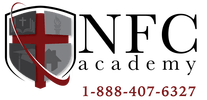 Press Release (ePRNews.com) - FL, USA - Mar 30, 2018 - Based out of Tallahassee, FL, NFC Academy is a top-rated institution that focuses on providing comprehensive programs from kindergarten through to the twelfth grade. They offer homeschooling programs online for grades 3 to 12 and are accessible on the students' computers. NFC Academy also provides print curriculum for students in kindergarten to grade two, as well as for students in grade 2 to 5 who prefer the print program rather the than online one.
Speaking about how a parent can keep track of their children's progress, the Admissions Officer at NFC Academy said, "Parents involvement in education plays a significant role in their children's performance. That's why we provide the Parent's Portal which enables you to monitor your child's daily assignments, their due dates, completion dates along with the score for the particular assignment. This will keep you daily informed of both progress and areas where encouragement and help may be needed."
Parents looking for Christian homeschool curriculum program for their children will be pleased by what NFC Academy offers. For years, they have been providing incredible Christian programs for children. The Christian curriculum teaches students same subjects they learn at any school, but the biblical worldview is a distinguishing difference Their curriculum covers academic disciplines with excellence but does using the worldview which will provide them the tools to make wise life decisions. This helps the child to grow with Christian values. NFC Academy also offers support through their certified teachers. This way, parents have the much-needed resources to help their children through their formative years.
Highlighting their enrolment process, the Admission Officer went on to say, "Our academy has accepted students all over the United States and for that matter the world. Thanks to our online program, we accept applications from any locations, even outside of US and we will ship the books in the print curriculum throughout the U.S. and other parts of the world. The only requirements that are crucial are, you'll need to have an internet-enabled device, good internet connection and that you fluently speak English."
NFC Academy has some of the best homeschool programs for kids who are just starting out in elementary school and for those who are going to middle school and high school level. The high school curriculum serves grade 9-12 with the College Preparatory Program. Students can find all the core courses required for graduation from high school in NFC Academy's online program. Added to those core courses in Math, English, Science, and History are the academy's biblical courses and a broad selection of electives. All courses are fully accredited. And for the students who require NCAA academic eligibility, the core courses too, are approved by the NCAA.
About NFC Academy
NFC Academy offers fully approved programs for students in kindergarten all the way up to those in grade 12.  Parents looking for the best online homeschooling program can contact the center today.
Source :
NFC Academy