NFC Academy is Offering Online Home School Programs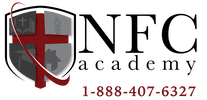 Press Release (ePRNews.com) - Tallahassee, FL - Oct 24, 2017 - NFC Academy is giving parents access to the future of education with their accredited programs for homeschooling from kindergarten all the way to 12th grade. An exclusive Christian school, the academy has their curriculum based on a biblical worldview thus promoting both academic skill and learning important character traits for making the best life choices. NFC Academy is driven to reignite the passion of children to learning while offering them flexibility and freedom to study at the most convenient time and environment.
Responding to questions about their programs, the School Director said, "Homeschooling is a concept that has been widely accepted with more parents choosing this learning option globally. We are providing a direct link between educational resources and your children through our online presence to make their learning exciting as they take advantage of this increasingly technology filled world. The programs we avail include text-based lessons, audio & video clips, interactive learning games, off-computer assignments, tests, and external web links for further research. Core subject areas such as the Bible, math, science, history & geography, and language arts are all covered with a diverse list of electives to choose from."
NFC Academy has the best accredited homeschool programs for all elementary, middle school and high school learning. Their college preparatory program works on building each student step by step to achieve excellence in the educational arena while teaching them basic lessons for daily living. With NFC Academy parents can act as home teachers in their online Homeschool Edition or students offered access to the academy teachers in their Homeschool Advantage program for grades three to 12. The Academy has both full time and part time programs as well as welcoming international students accepted for admissions.
Talking about the importance of mutual co-operation in homeschooling, the Program Director said, "Education is all about the student, but without the necessary support, tools, and encouragement it becomes stressing. Homeschooling, in particular, relies on coordination between parents, students, and institutions that provide the curriculum. To assist you to be a part of your children's education we equip you with the necessary tools such as lesson planners and guides make their learning success. A parent portal is also availed to be a direct communication line between our institution and you as the home teacher."
Parents looking to find accredited online high schools have an unrivaled profile at NFC Academy. Among the commissions that have certified them include Middle States Association of Colleges and Schools, Florida Association of Christian Colleges and Schools, and National Council for Private School Accreditation. These accreditations are a proof of the highest academic standards NFC Academy has achieved to give both the student and parent confidence in their programs. To ease the tracking of the academic progress of their learners the institution provides report card grades posted at the end of each semester on the parent portal.
About NFC Academy
NFC Academy offers homeschooling students a complete curriculum and learning programs from elementary through to high school learning. The school is fully accredited and provides admission to both local and international students for either part-time or full-time students.
Source :
NFC Academy