Nfc Academy Provides Kindergarten To High School Christian-Based Homeschooling Programs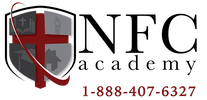 Press Release (ePRNews.com) - Florida, USA - Jan 31, 2019 - At a time when the popularity of homeschooling is growing not only in the United States but across the globe, NFC Academy has taken a strategic role in the advancements of the modern form of education. Motivated by the Christian faith and their duty as an education provider to address current needs, the Academy has brought a new perspective to homeschooling. NFC Academy learning programs give consideration to the biblical worldview, so children are being taught both with a goal of exceptional academic achievement and being taught the value of a character to make wise life choices.
Speaking about why they focused on being a Christian school, the Academy spokesperson said, "We have a mandate both as parents and guardians who believe the biblical worldview provides children an opportunity to learn at the highest level while keeping biblical values key to life decisions.  While there is generally a quality education with the public form of education it is clearly without any interest in teaching the values of a biblical worldview. In introducing the Christ-like perspective to our loved ones from an early age, we build up a stronger generation for tomorrow as they have a faith which will guide their decisions and behavior."
Technology has made it possible for everyone regardless of location to experience the full experience of home schools online. NFC Academy has tremendously gained in this aspect as today they have given parents and students located in different countries a platform for pursuing NCAA accredited homeschool program. This has ensured that American families in other nations can comfortably have their children go through the advanced system without any struggles. NFC Academy offers their online christian school curriculum from grade three through high school with learners in kindergarten to grade two having access to a print curriculum which can be an option up to the fifth grade.
Talking on the strengths of their middle school programs, the Academy spokesperson said, "Middle school is a crucial phase as it is the stepping stone to high school and is usually the period when learners start having great ideas on what they want for their futures. At this stage, there is an enhanced exposure where they can easily choose one option over the other due to their convictions. For most parents, it is the stage they realize tremendous growth which is great and that is why our program is tailored to address the curiosities and requirements of this stage."
Every Christian family that wants viable homeschooling online programs can place their trust in NFC Academy as they have all it takes to address educational matters. All the systems in place in the academy right from the administration to how the lessons are offered reflect the quality desired in the modern age. NFC Academy understands the demands of long-distance learning and has flexible structures which give every learner opportunity to fully grasp the content of each lesson while preparing them for long-term success.
About NFC Academy
NFC Academy is providing homeschoolers with a perfect platform where they will not only received the best-accredited education programs but will have a strong Christian foundation that will enhance their faith.
Contact Details
Company Name: NFC Academy
3000 North Meridian Road, Tallahassee, FL 32312
Telephone Number: 888-407-6327
Website: https://www.nflcacademy.com/