Nfc Academy Is Providing Pre-Tested And Approved Christian Homeschooling Programs
NFC Academy is an accredited private academy that has their dedication to ensuring every student gets the best of home education with the extra plus of growing up with better knowledge of Christian teachings.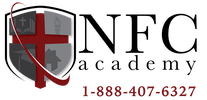 Press Release (ePRNews.com) - Tallahassee, FL - Mar 25, 2019 - NFC Academy is all about home education, a fast-growing area that has resulted in a lot of attention from diverse stakeholders across the globe. A difference which the private academy brings to play is the introduction of the Biblical perspective to the model of learning which has been described as futuristic. In creating a balance between education and the knowledge of God, NFC Academy has provided the ultimate platform that all Christian families can embrace with confidence.
Talking about how their solutions result in a win-win situation, the Academy Spokesperson said, "It is the expectation of every family that believes in the teachings of the Bible that they raise children who will embrace the high standards expected from Christians. However, for many parents, there is not a program that will see their children be introduced to the basic lessons from the Bible. As a team that believes in the supremacy of God and the teachings of Jesus, we approved and implemented a curriculum that would allow us to not only teach the core subjects but also incorporate biblical principles into the day."
The first mark of a quality school  that every parent and student must be assured of is they are registering for an accredited homeschool program, and NFC Academy has made this one of their core strengths. The Academy has not been limited when it comes to the high standards that they have set to ensure they met and exceed minimum qualifications. NFC Academy is therefore proud of having received accreditations from respected agencies including AdvancED, FACCS, and the Middle States Commissions on Elementary & Secondary Schools. Not only being accredited by these prestigious agencies, NFC Academy has NCAA approval for its high school core courses.
Speaking further on how they ensure their students have an exceptional experience, the Academy Spokesperson said, "The attention to details by the team of education specialists we have on board has resulted in a program that will naturally re-ignite the passion of learning to all students. We have programs suited for all levels with the structure of each lesson designed to arouse the curiosity of the student. This is then complemented by the fact that there is the 24-hour access to complementary materials such as an online library, external web links, interactive games, and quizzes that add to the fun of learning at home."
The search for the ultimate online Christian school that will prepare students both for academic success and excellence in their everyday living comes to an end at NFC Academy. All the two core factors are made to seamless integrate by the Academy giving their students a recognized program to be their model. NFC Academy has its program focused beyond the grade that any student is in but uses it as a ladder that will guide each learner to life after high school and into their careers.