NFC Academy is Offering Full-time and Part-time Homeschooling Programs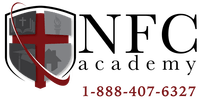 Press Release (ePRNews.com) - Tallahassee, FL - Jul 10, 2018 - NFC Academy is about raising the standard of education which defines the online programs designed to make learning more interactive and fun. The Christian school focuses their entire homeschool program on a Biblical worldview which is incorporated into all their curriculum from kindergarten to the twelfth grade. NFC Academy can enroll students from across the world and runs both full-time and part-time programs.
Speaking about the progress of online homeschooling, the Academy Director said, "Technology has been critical in simplifying the educational approach in today's educational environment. Today, regardless of your location there is the freedom to access different programs online making education innovative. It is this aspect we are extending to your children as we offer them a program that has been professionally designed with their needs in mind. We focus on quality and the flexibility that most students who are homeschooling desire so they can make steady progress as in order to prepare for higher learning and future careers."
Families now have the option of enrolling their children in an online Christian homeschool curriculum thanks to NFC Academy. The Academy's belief in the infallible word of God as it is written in the Bible is from the very onset made clear to all their families. It is the foundation of everything they do with these views introduced to all learners. NFC Academy makes it a priority to promote academic excellence, while at the same time providing a Christian approach to guide day to day living.
Talking about how parents can assist in the transition to homeschooling, the Admissions Director said, "Change can be difficult but should never be a reason to be concerned, if you have to introduce your child to homeschooling after they had become accustomed to a regular classroom environment. When this kind of change becomes necessary, you as the parent have the opportunity to become actively involved in the transition in helping your children adjust.  You are always a source for assistance and comfort to make them feel comfortable and develop confidence with the program."
A planned and accredited curriculum is part of the benefits included in NFC Academy's online homeschooling program. The Academy meets the highest standards of education with their focus on unrivaled quality of learning to all their students. NFC Academy is not restricted to an academic year calendar as they provide each student an opportunity to start the school year anytime. A team of experienced educators help to create the solid ground upon which any questions about the program can always be asked for total satisfaction.
About NFC Academy

NFC Academy is a Christian school dedicated to providing top of the line homeschooling programs for learners' from kindergarten to high school for an exceptional academic experience.
Contact Details

NFC Academy
3000 North Meridian Road, Tallahassee, FL 32312
Telephone Number: 888-407-6327
Website: https://www.nflcacademy.com/
Source :
NFC Academy