Colorado Springs Movers Celebrates 21 Years Serving Clients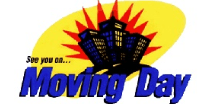 Press Release (ePRNews.com) - Colorado - Jun 24, 2018 - Moving Day Inc. is a Colorado Springs based moving company that is celebrating 21 years of serving clients by providing the greatest move at the lowest cost possible. The team at Moving Day Inc. (www.movingday.net)is dedicated to moving your family or your business, safesound, and without stress, to your new location.
Moving can be one of the most stressful decisions a person can make. You shouldn't spend your time worrying about moving boxes and bubble wrap.You can rest easy knowing that Moving Day Inc. offers a full range of moving services and will even do all of the heavy lifting for you.
"Moving Day Inc. was a great selection for our moving needs. They were fast, friendly and respectful of our property. I would recommend this company to friends and family." – Satisfied Moving Inc. customer. Moving Day Inc. has many other reviews you can read here.
Moving Day Inc. in Colorado Springsoffers a full range of moving services that includes local moving, long distance moving,commercial moving, apartment moving, office moving, packing and of course, unpacking.
With literally thousandsof successful moves under their belt since May of 1997, Moving Day Inc. wants to be your Colorado Springs Mover. They are an affordable, family-owned local moving company whose goal is to get you in your new place as fast and as stress-free as possible.
"Moving Day Inc. uses modern, clean vehicles and equipment that are critical for providing our customers with the best possible moving experience. The best part of all? We maintain and own all of the equipment which makes your move secure and safe in every way possible." – John Striedieck, Owner Moving Day Inc.
If you want your move to be as painless, inexpensive and easy as possible then you will want to give Moving Day Inc. your moving business. Their dedicated and friendly team of moving professionals want to help you to settle comfortably into your new location in as little time as possible, all the while keeping moving costs as low and well within your moving budget.
Moving Day Inc. is fully licensed and insured, and we give Free Moving Quotes for the asking. Just give us a call and we will quote your move right away.