Cyanide & Happiness' First Video Game Fully Crowdfunded in Four Days
Internet darlings Cyanide & Happiness successfully funded their Kickstarter campaign for a point and click adventure game modeled after Secret of Monkey Island and Grim Fandango.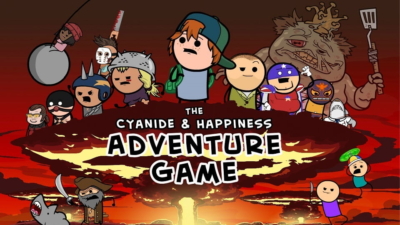 Press Release (ePRNews.com) - DALLAS - Sep 08, 2017 - Cyanide & Happiness, creators of the #1 animated comedy show on YouTube with over 7 million subscribers have funded over $300,000 in less than four days for their first video game, The Cyanide & Happiness Adventure game.
This is their third Kickstarter which follows on the heels of $3.2 million raised for the card game Joking Hazard and $770 thousand raised for The Cyanide & Happiness Show, currently in its third season on VRV.
Following in the footsteps of the legendary adventure game Monkey Island, Grim Fandango, and Thimbleweed Park, The Cyanide & Happiness Adventure Game will follow the the adventures of Coop, a high school boy, in his quest to survive the apocalypse. In a break from tradition, this will be the first chance fans of C&H will have to experience the unified Cyanide & Happiness world, featuring cameos from fan favorite characters such as Ted Bear, Shark Rad, and The Purple Shirted Eye Stabbers.
"We're also taking inspiration from newer games like South Park, the Stick of Truth, where it feels like you're playing a cartoon instead of a game," said Kris Wilson, a co-creator of Cyanide & Happiness and creator of the game.
The game will be developed with fellow Newgrounds alumni Roger Barr from I-Mockery and Skeleton Crew Studios, creator of games like Abobo's Big Adventure, Bionic Chainsaw Pogo Gorilla, and the upcoming Halloween Steam game, Grave Chase.
The Kickstarter runs until October 5th, and features a play along choose your own adventure that unlocks additional game features when backers send in outrageous photos such as "Dad Cosplay" and "Dress in Trash".
Source :
Cyanide & Happiness

Business Info :
Cyanide & Happiness
1819 firman dr ste 145
Dallas, Texas - 75081 United States
Phone: 2147693285
Website:
http://www.explosm.net