Dennis the Menace comic strip, television series, books, and feature films is explored in a remarkabl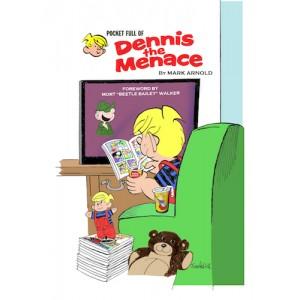 Press Release (ePRNews.com) - ALBANY, Ga. - Jun 15, 2017 - BearManor Media announces the release of Pocket Full of Dennis the Menace by Mark Arnold.
Dennis the Menace, originally a comic strip introduced in 1951, expanded into a comic book series; an American television series (1959-1963) starring Jay North, Gloria Henry, Herbert Anderson, and Joseph Kearns; a 1986 animated television series; and many subsequent television series, books, and feature films.
Comic book and animation historian Mark Arnold covers Dennis the Menace history from its origins through the television series, the playground, and the merchandise. Includes biographies of creator Hank Ketcham and the people behind the scenes, Al Wiseman, Fred Toole, Owen Fitzgerald, Frank Hill, Bill Williams, Lee Holley, Bob Bugg, Ron Ferdinand, and Marcus Hamilton, as well as background on Mort Walker, Charles M. Schulz, Jay North, Gloria Henry, Herbert Anderson, Joseph Kearns, Gale Gordon, Walter Matthau, Don Rickles, Joan Plowright, Christopher Lloyd, Lea Thompson, George Kennedy, Betty White, Robert Wagner, and Louise Fletcher.
Foreword by Mort "Beetle Bailey" Walker. 460 illustrations, Indexed, and with a Comic Book Index and a TV episode guide.
About the author: Mark Arnold is a comic book an animation historian. He has written for various magazines, including Back Issue, Alter Ego, Hogan's Alley, Comic Book Artist, and Comic Book Marketplace. He is also the author of If You're Cracked, You're Happy: The History of Cracked Magazine (Vol. 1 and 2); Mark Arnold Picks On The Beatles; Created and Produced by Total Television Productions; Think Pink: The Story of DePatie-Freleng; The Best Of The Harveyville Fun Times!; Frozen in Ice: The Story of Walt Disney Productions. He lives in Eugene, Oregon.
#####
Available in March 2017 exclusively from BearManor Media in hardback, paperback, and ebook editions.
About BearManor Media: The award-winning and Pulitzer-nominated press publishes cutting-edge entertainment books, audio books, e-books, CDs, and DVDs on movies, television, radio, theater, animation, and more. Founded in 2001 by Publisher Ben Ohmart, the BearManor Media catalog now features more than 900 outstanding subjects from the obscure to the eminent. Visit www.bearmanormedia.com
For High Resolution Images, review copy PDF, or more information, contact the publisher at books@benohmart.com.
Visit www.bearmanormedia.com (print editions).
Also available on Amazon.com and other online booksellers.
BearManor Media ebook editions are available on Selz.com at https://bearmanormedia.selz.com/
Source :
BearManor Media