New Biography of Ruby Keeler, the World's Most Famous Movie Tap Dancer, is Too Marvelous For Words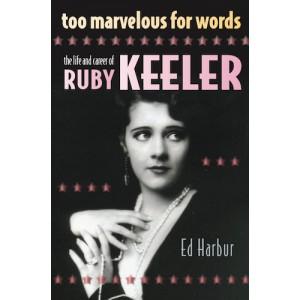 Press Release (ePRNews.com) - ALBANY, Ga. - May 08, 2017 - BearManor Media announces the 24 May 2017 release of the Too Marvelous for Words: The Life and Career of Ruby Keeler by Ed Harbur
Come and meet those dancing feet! The lyrics from "42nd Street" still evoke fantastic memories of Busby Berkeley and actress, dancer, and singer Ruby Keeler, who is best-known for starring with Dick Powell in musicals produced at Warner Bros., notably 42nd Street (1933), Golddiggers of 1933 (1933), Footlight Parade (1933), Flirtation Walk (1934), and Go Into Your Dance (1935).
Ruby's life and career was no tap dance. Underage at fourteen, she first danced where "the underworld can meet the elite" in New York speakeasies during the Prohibition Era. Plucked from obscurity and thrust onto Broadway in musicals, she captured the attention of Florenz Ziegfeld, and she soon appeared in his Whoopee! with Eddie Cantor and Show Girl (1929) with Jimmy Durante.
Topsy turvy Hollywood converted to talking pictures that were first popularized by Al Jolson in The Jazz Singer (1927). Jolson met Ruby, and their eleven-year turbulent marriage swept the two of them into widely publicized movie successes, yet their acclaim stood on shaky ground.
In this first-ever book by actor and singer Ed Harbur, discover Ruby's childhood, her early career, her idyllic second marriage, and her phenomenal return to Broadway after twenty-seven years to star in No, No, Nanette. Tragedy followed the triumph, when Ruby suffered a life-threatening stroke, yet she emerged to enjoy a long and successful recovery and served as a champion advocate for stroke victims.
The four-part book spans sections devoted to Biography, Film Appearances, Stage Appearances, and TV and Short Subject Appearances. Illustrated with hundreds of never before seen photographs, including stage and screen productions and candid shots of Ruby at work and in private life. Index. Bibliography.
#####
Available exclusively from BearManor Media in hardback and paperback editions.
About BearManor Media: The award-winning and Pulitzer-nominated press publishes cutting-edge entertainment books, audio books, e-books, CDs, and DVDs on movies, television, radio, theater, animation, and more. Founded in 2001 by Publisher Ben Ohmart, the BearManor Media catalog now features more than 900 outstanding subjects from the obscure to the eminent. Visit www.bearmanormedia.com.
For High Resolution Images, review copy PDF, or more information, contact the publisher at books@benohmart.com.
Visit www.bearmanormedia.com (print editions)
Also available on Amazon.com and other online booksellers.
BearManor Media ebook editions of other books are available on Selz.com at https://bearmanormedia.selz.com/
Source :
BearManor Media