Dialysis Clinic, Inc., celebrates 16 years of service in Indiana, PA
Community is invited to tour the new dialysis center on Wednesday, June 14th, from 5-7 p.m.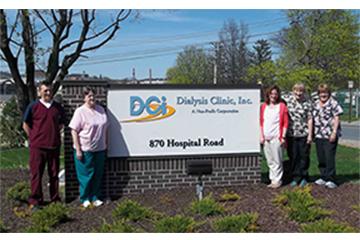 Press Release (ePRNews.com) - INDIANA, Pa. - May 22, 2017 - Dialysis Clinic, Inc. (DCI) is hosting an open house at its new facility, located at 870 Hospital Road, Indiana, on Wednesday, June 14th, from 5-7 p.m., to celebrate 16 years of service.
The general public is invited to tour the facility and enjoy refreshments while meeting the clinic staff.
"DCI has been in the community for years and we're excited to offer this new building to our patients. The layout of this facility is easy to navigate and offers upgrades to improve the patients' experience," said Anna Boland, RN, nurse manager for DCI Indiana.
The recently built facility began serving patients on March 20th. It provides patients a flat entrance for easy access to the building, a covered portico, and a bright and airy atmosphere with lots of windows. Each patient station has a flat screen TV, free Wi-Fi access, and a new heated dialysis chair.
"I'm proud to work for a company that lives their mission, 'the care of the patient is our reason for existence.' We have seasoned staff who have been with the clinic for ten or more years. If their tenure doesn't showcase the quality of the company, I don't know what does," said Boland.
The open house is an opportunity for the community to meet the staff and nurses. Medical director, Ashok Chaddah, MD, and Brian Spar, MD will be in attendance, along with the local staff and representatives from DCI.
This is the first event at the new facility and the DCI staff is excited to show it to the community.
"We've come a long way in 16 years," Rick Kelly, DCI administrator, said. "I hope the community will join us on June 14 to see for themselves how wonderful the new facility really is."
The 21-station facility offers in-center hemodialysis, along with home hemodialysis and peritoneal dialysis training. The clinic hours are Monday through Saturday from 5:30 a.m. to 4 p.m. DCI Indiana is accepting new patients and also welcomes patients traveling to the area who may need dialysis.
For more information, please call DCI Indiana at (724) 465-7010 or visit http://www.dciinc.org/indiana/.
Source :
Dialysis Clinic, Inc.

Business Info :
Dialysis Clinic Inc. (DCI)
1633 Church St. Ste. 500 Nashville, TN 37203
Nashville, Tennessee - 37203 United States
Phone: 615-327-3061
Website:
http://www.dciinc.org