Humanitarian Effort for Haitians Led by Dialysis Clinic, Inc., Staff Raises Over $16,000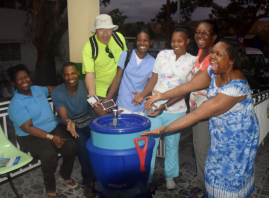 Press Release (ePRNews.com) - BOSTON - Feb 06, 2017 - DCI employees from Boston and Somerville along with a local nonprofit, Immigrant Family Services Institute, arrived in Haiti on January 19 to deliver critical supplies and provide hands-on support for people living in the hurricane devastated areas of Port-Salut, Les Cayes, Cavaillon and Torbeck.
Last year, Hurricane Matthew tore through Haiti, destroying many villages along the southwest coast. It is estimated that 90% of the people in Port-Salut and surrounding areas lost their homes and livelihoods.
"After the hurricane struck in October, I knew I wanted to do something to help the people of Haiti," said Kathy Murray, MSW, social worker at DCI Boston. "I spoke with Arrol Vital, a patient care technician at our clinic who is from that region, and he invited me to visit Haiti with him. That invitation blossomed into a six person relief team."
The relief team solicited donations through the Go Fund Me website. The team raised $12,350 through 93 contributions on the website, another $4,000 from corporate donations, and over $1,000 in cash donations. The team members, who paid for their own travel, ensured all of the money was used to purchase life-sustaining provisions.
Before the team departed, a 40-foot crate filled with supplies was shipped to Haiti. The goods included medicines, such as ibuprofen and anti-diarrheal relief; hygiene items: clothing, towels, soap, toothbrushes, and shoes; and Lifestraws, a special type of water filtration device. 16 community Lifestraws were delivered to hospitals, churches, schools and community centers, and 20 family Lifestraws were given to individual families in dire need of clean water.
"The Lifestaws and anti-diarrheal medicine were tools that the team shared in Haiti in an attempt to reduce the burden of acute kidney injury," stated Klemens Meyer, MD, DCI medical director and trip supporter. "Diarrheal illness is an important cause of acute kidney injury in low-income countries."
According to the World Health Organization, "A significant proportion of diarrheal disease can be prevented through safe drinking-water and adequate sanitation and hygiene."
The DCI team spent three days delivering supplies and re-building homes in Port-Salut.
"Many DCI employees and physicians donated to the relief efforts to make the trip possible," said Mary Hobeika, DCI senior operations director for the Boston region. "This is a great example of the DCI mission in action—reaching beyond our footprint to make a difference for patients."
The DCI employees who made the trip to Haiti include:
· Pete Costello (DCI Boston nurse)
· Sheba St. Cyr (DCI Boston PCT)
· Kathy Murray (DCI Boston social worker)
· Poonhar Poon (DCI Boston dietitian)
· Frank Previna (Former DCI nurse)
· Eliza Vanderstar (DCI Somerville social worker)
· Arrol Vital (DCI Boston PCT)
Murray said she know the group will continue their efforts in the future. "Our team is already discussing new fundraising ideas to get homes built for families in Haiti," she shared. "Seeing my colleagues come together to reach beyond Boston made me recognize the value of working at a nonprofit."
To learn more about DCI, please visit http://www.dciinc.org.
Source :
Dialysis Clinic, Inc.

Business Info :
Dialysis Clinic Inc. (DCI)
1633 Church St. Ste. 500 Nashville, TN 37203
Nashville, Tennessee - 37203 United States
Phone: 615-327-3061
Website:
http://www.dciinc.org