Poor Quality Sleep Worsens Renal Function in CKD Patients, A Study Finds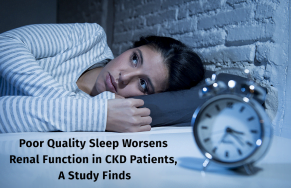 Press Release (ePRNews.com) - JALANDHAR, India - Feb 09, 2017 - A 2016 study conducted by researchers at the University of Illinois at Chicago has found that there is a significant association between sleep quality and kidney failure risk.
Sleep disturbance is one of the most significant symptoms that CKD patients complain about during their examination and check up. Poor sleep affect approximately 50% of patients with Stages 3–5 CKD. Sleep disturbance is more prevalent in kidney disease patients on dialysis, including both hemodialysis and peritoneal dialysis. Sleeplessness is the main factor of stress and anxiety, which can disturb the sleep-waking cycle. Another research study published in 2010 in the journal "Nephrology Times," revealed that 45-83% of hemodialysis patients report sleep disturbance while between 68% and 75% of peritoneal dialysis patients complain of difficulty falling asleep.
Dr. Balkar S Kundan, owner of Kundan Kidney Care hospital, and a renowned kidney specialist who has been helping kidney patients with Ayurvedic treatment for kidney disease for more than three decades, stated, "At Kundan Kidney Care Centre, we believe kidneys can recover. As the research study says short sleep is a great risk factor for CKD progression, we suggest CKD patients to opt for Ayurvedic treatment. Our Ayurvedic medicines are useful in the treatment of kidney disease such as CKD, the kidney failure can be fully reversed and the frequency of dialysis can be gradually reduced." He further added, "Our carefully crafted Ayurvedic treatment for kidney failure not only help to avoid dialysis but also aid to revive the kidney, no matter in which stage of CKD you are in. So far we have helped thousands of CKD patients in successfully recovering from renal failure and improve sleep habits."
The recently published research study reveals the importance of sleep on kidney function, and underscores the need to design treatments that improve sleep habits in individuals with CKD. Today, Ayurvedic <a href="www.kundankidneycare.com">treatment for kidney disease</a> has gained popularity and many patients are looking for Ayurvedic medications to improve their overall health and improve kidney function.
For more information about Ayurvedic treatment for kidney failure, visit
http://www.kundankidneycare.com/kidneys-can-recover/
About Kundan Kidney Care
Kundan Kidney Care Centre treats kidney disease patients with a unique herbal cure, according to the symptoms of each patient. They have a special team of kidney specialists with years of experience in dealing with and assessing kidney patients and designing their diet. Their time tested and safe Ayurvedic treatment for kidney disease ensure that patients will not have to go for dialysis. All of their herbal products and herbal medicine used for kidney disease treatment are manufactured in a GMP and ISO certified facility. Their Kundan Kidney Care Hospital is also ISO certified. Their herbal products are free of any chemicals, steroids and metals, and are tested twice, once by our supplier and then by an independent third party laboratory.
Contact Information
Address
257/6 Vij Nagar,
Near Kishanpura Chowk
Jalandhar City, Punjab
India 144 004
Phone:
+91 96 5353 7575
+ 91 96 5353 9595
+91 98 1406 9806
Fax: + 91 88 6007 5623
Tel: +91 941 769 5200 (WhatsApp)
Email: info@kundankidneycare.com
Website: http://www.kundankidneycare.com
Source :
Kundan Kidney Care Centre