Dynamics 365/CRM Mobile Mapping Tool for iPhone
InfoGrow's CRM SmartMap Now Available for iPhone and Android Devices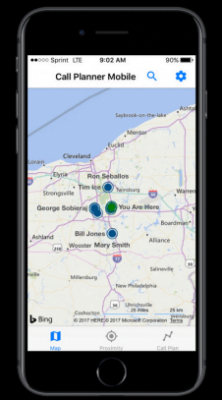 Press Release (ePRNews.com) - AKRON, Ohio - Jun 16, 2017 - InfoGrow, a leading Microsoft Dynamics 365/CRM developer, released the iPhone version of its CRM SmartMap mobile mapping and sales call productivity tool.
Designed for field sales teams, CRM SmartMap helps account managers visualize customer data and make better decisions about where to invest their limited time. "CRM SmartMap is designed to generate at least one more appointment every week, for every member of the sales team," stated Bob Sullivan, president of InfoGrow. "This additional activity can have a significant impact on an organization's bottom line."
Seeing customers, prospects, leads, and opportunities plotted on a street map improves the sales team's ability to create more productive call plans. While working directly within Microsoft Dynamics, account managers can build a detailed call plan on their desktop or tablet, and push it to their iPhone or Android smartphone.
In the field, reps can use their smartphone to see other contacts around them. This helps to maximize opportunities in the field and modify plans, as needed, by calling or emailing nearby contacts. Turn-by-turn driving directions can also be generated on their iPhone to streamline travel and improve efficiency.
CRM SmartMap is offered as a monthly subscription service, with no contract, from InfoGrow for $9.75 per user, per month. It is fully integrated with Microsoft Dynamics 365/CRM and offers a cost-effective way to maximize travel dollars, improve sales call planning, and boost sales.
Visit www.CRMSmartMap.com for more information on CRM SmartMap. Or click the link here: http://www.infogrowcorp.com/crm-smartmap.html
About InfoGrow Corporation
InfoGrow has a 27-year proven track record helping companies accelerate customer engagement effectiveness and boost profitability. Using CRM as a competitive advantage, InfoGrow is a strategic resource for improving lead management, cultivating business intelligence, and visualizing CRM data through mapping.
InfoGrow helps clients identify their best prospects, discover missed opportunities, focus account reps on the most profitable accounts, and reduce marketing waste. InfoGrow is a Microsoft Partner; is certified on Dynamics 365, ADX Portal, and Bing Maps application development; and is an ACT-On marketing automation partner. Learn more at http://www.InfoGrowCorp.com or call 330-929-1353.
Source :
InfoGrow Corporation