Ebizy.com: A way ahead to digital India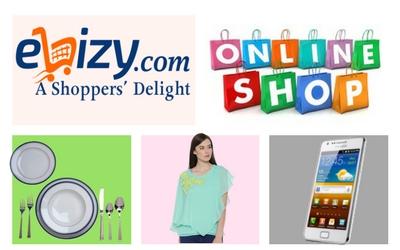 Press Release (ePRNews.com) - DELHI, India - Apr 01, 2017 - In the past, setting up even a self-run shop was not for everyone. But there is no denying the fact that change is the only constant, ever and with changing times came the mushrooming of grocery shops, book stores, clothing emporiums, hardware stores and what not and their chief competitors were one another, but now that the same constant change has brought about the onslaught of e-commerce portals which is a much more stronger competitor, wiping away the good ol' brick and mortar shops, especially in big cities like Delhi, Mumbai at such a fast pace that they far outnumber brick and mortar shops.
The Problem
If you are one of those good ol' brick and mortar shop owners then it sounds scary, right? While many shop owners have successfully transitioned their businesses to suit online needs, many more haven't been so lucky. They are either suffering because they chose to ignore the e-commerce tsunami or simply, got a little late. Another reason could be the possible reluctance owing to the confusing process of getting up and ready to sell online.
The Solution
The good news is that even you can build an online store. It is easy, simple, and won't require you to break the bank. Ebizy is helping by making it very easy to for the shop owners to become sellers on its website.
"Just registering and getting up to the point to sell online can cost an arm and a leg, but at Ebizy, it costs next to nothing", says Dr. R. K. Tandon (CMD, ebizy.com). Along with the ease of doing business selling on Ebizy is a bargain, especially for small-scale sellers.
In short, Ebizy is connecting Delhi's shops with buyers all around India. Ebizy is taking its business to the sellers, be they grocery store owners or footwear shop owners, and not the usual, other way around.
Here are some simple and easy questions to answer and get your online dream store up and running. But don't worry for every answer Ebizy is there for you.
1. What are you selling?
Are you selling clothing, gadgets, grocery items, books, jewelry, or footwear? Zeroing in rightly on the product or categories of products you are planning to sell is called product planning.
Ebizy sends its seller support expert to the interested shop owner. The seller support expert then helps the shop owner register with the website. The expert also helps the prospective seller with any documentation required for selling online and helps categorize their products properly.
2. To whom are you selling?
The target customer group consists of the customers with common traits of age, gender, location, interests, etc. who will buy your products. Knowing your target customer is extremely important. Pitching kitchenware to corporate employees will not result in very many sales.
Ebizy, through customized promotional campaigns and other marketing strategies helps boost your sales to the right customers.
3. On which platform are you selling?
As you know these days there are plenty of options when it comes to picking an e-commerce platform.
Initially starting online selling can seen confusing and tiresome to any seller but with a dedicated support system ready to help whenever you are having a trouble is what makes the difference. Ebizy, being a successful start-up itself, understands this and is ready to go the extra mile to help you with everything from A-Z.
Ebizy even provides its own product photographers, free-of-cost. They conduct the shoot on the shop itself so that the seller doesn't have to get involved in the hassles of bringing the products to the studio and time constraints.
4. Are you assuring buyers safe shopping?
Most online shoppers hesitate to pay online because of cyber frauds. E-customers will only shop from sources where they have trust that things won't go wrong.
Ebizy ensures you that the payment gateway used for carrying out all transactions is highly trusted and safe to use, accepting all major credit cards (Visa, Master Card, American Express, and Discover), debit cards, besides providing net-banking facility.Ebizy also makes available the facility of COD – Cash on Delivery for its customers.
5. What are you waiting for?
Starting an online store need not be a head-banging process if you remember the aforementioned points and Ebizy.
Source :
Ebizy.com

Business Info :
Ebizy.com
India