FCB-EV7520 NEW Full HD 30x Colour Camera Block – HIGH SENSITIVITY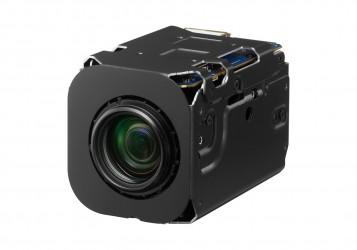 Press Release (ePRNews.com) - CHESHUNT, England - Oct 10, 2016 - We are pleased to introduce its new FCB-EV7500 camera. The FCB-EV7500 is Sony's latest 1/2.8 type Exmor CMOS image sensor with full HD (1920 x 1080) at 60fps and 30x optical. Featuring full 1920 x 1080/60p, 30x Zoom, Wide-Dynamic Range, and Auto ICR, the new FCB-EV7500 is a compact High Definition block camera which is ideal for Security Monitoring, Intelligent Traffic, Remote Monitoring, Inspection and Video Conferencing applications. Available picture effects include Colour Enhancement, E-flip, Nega Art, Black & White, and Mirror Image.
Full 1920 x 1080/60p High Definition: Ideally suited for security monitoring applications, the FCB-EV7500 HD block camera offers full 1920 x 1080/60p high definition video output.
Digital Output (Y/Cb/Cr 4:2:2): The digital LVDS interface provides easy access for IP and Gigabit Ethernet applications. Thanks to the digital interface, the quality of the camera's video signal is maintained with minimal deterioration. This can lead to cost savings due to the direct connection with codec's/systems without the need for any additional components.
Visit https://www.premierelect.co.uk/pdf/2081396476_EV%20series…
· Temperature Readout: The value of the internal temperature of the FCB-EV7500 camera can be read out via the VISCA™ protocol. When checking the internal temperature of equipment (i.e., speed dome unit), it is possible to use this data to turn a fan or heater on/off inside the equipment as needed.
Colour Enhancement: Ideally suited for low vision applications, new colour enhancement options can make reading text and pictures less challenging. Available options include monochrome, binary, inverted and enhanced colour modes.
The high quality lens offers a bright F1.6 maximum aperture and 30x optical zoom range. Fast zoom operation (from wide end to tele) is ideal for smooth, rapid transitions from wide area coverage to detailed close-ups in security and surveillance applications.
https://www.premierelect.co.uk/pdf/2081396476_EV%20series%20brochure-Final.pdf
Benefit from optimized picture quality in changing light conditions – a frequent challenge in round-the-clock security operations. In high sensitivity mode the camera can operate effectively in lighting levels as low as 0.35 lx (ICR on).*5 *5 The FCB-EV5500 achieves 0.25lx.
Source :
Premier Electronics Ltd

Business Info :
Premier Electronics Ltd
Unit 9 Impresa Park, Pindar Road Hoddesdon
Hertford, Hertfordshire - EN11 0DL England
Phone: 01992478321
Website:
http://www.premierelect.co.uk