FIRST CLASS PLUMBING OFFERS VALUABLE PLUMBING ADVICE
Auburn HiIls, MI plumbing company shares tips for preventing plumbing disasters during NCAA FBS Bowl season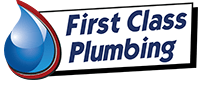 Press Release (ePRNews.com) - Auburn Hills, MI - Dec 13, 2018 - First Class Plumbing offers up some potentially money-saving advice to homeowners during the football season. As friends and family get together to watch in hopes their favorite team wins the championship, something every party has in common is the food.
Preparation and disposal are paramount for any home's plumbing; not everything should be going down the drain. While it may be simpler to throw waste in the garbage disposal, First Class Plumbing warns that homeowners should think twice.
Who doesn't love chicken wings? Yet, many make the mistake of throwing discarded bones down the drain, in hopes the garbage disposal will be sufficient at eliminating the aftermath of several people eating delicious hot wings. First Class Plumbing insist that most home's garbage disposals will not do an adequate job of breaking up these components and can cause problems down the plumbing line, including clogs that could affect the functionality of your kitchen's fixtures.
AVOID putting any grease down the drain. This is a simple trick, but many don't believe that grease can cause any issues. As tempting as it may be to discard oil down the drain after frying up potato skins or chicken wings, use another container and throw it in the trash. Excessive buildup of grease in the drain will eventually cause a massive clog. Homeowners can avoid this potential pitfall by throwing oil in the garbage once it's cooled.
Reducing the amount of food put in the garbage disposal can also be beneficial. Don't wait till food is overflowing from the drain, instead do smaller loads to help maximize the efficiency, and prevent damaging the disposal.
The more party goers, the more likely the restroom could be a hot spot that is frequented. The thicker the toilet paper used, the more likely a clog can occur. Make the switch to single-ply toilet paper to give the sewer pipes a break during times of increased use.
ABOUT FIRST CLASS PLUMBING
Auburn Hills, MI plumbing company, First Class Plumbing has been serving the community for over six years for all residential plumbing needs. Master plumber and owner, Stephen Pizza brings his 20+ years of experience to every job First Class Plumbing is hired to do.
Serving the Oakland County, they provide outstanding customer service in addition to their rapid repairs at affordable pricing. Their dedication to customers is unmatched in the industry, not just the area. Plumbing emergencies can happen at just about any time, and First Class Plumbing is always there to help. Their emergency service means customers are never without the best plumber in the area and will have their fixtures working as they should no matter what time of day something happens. Some of their specialties include leak and clog repair, water heater installation, sump pump installation, and re-piping.
For more information on First Class Plumbing, please contact Steve Piazza at 248-860-5084, or by email at FirstClassPlumbingInc@gmail.com. Visit their website for additional details on services located at http://firstclassplumbinginc.net.
Source :
http://firstclassplumbinginc.net/