First-In-Connecticut: Innovative Outpatient Knee Repair Surgery Utilizing MACI® Membrane Product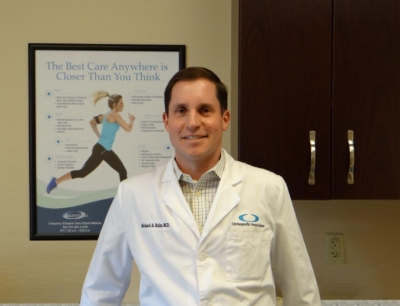 Press Release (ePRNews.com) - MIDDLETOWN, Conn. - Apr 10, 2017 - On Thursday, April 20, 2017, Dr. Michael Kuhn of Orthopedic Associates of Middletown (OAM) will perform Connecticut's first outpatient MACI® (ma-cee) knee cartilage membrane surgery using the patient's own cells. MACI is the first U.S. Food and Drug Administration-approved product to apply the innovative process of engineering tissue to grow cells on scaffolds using healthy cartilage tissue and cells directly from the patient's knee.
MACI (autologous cultured chondrocytes on porcine collagen membrane) (www.maci.com) is an autologous cellularized scaffold product used to repair single or multiple symptomatic, full-thickness cartilage defects in the adult knee, with or without bone involvement. Produced by the Vericel Corporation (www.vcel.com), this product can only be administered to the patient for whom it is manufactured. The amount of implantation membrane administered depends upon the size of the cartilage defect and is trimmed by the treating surgeon to the size and shape of the patient's cartilage defect to ensure the damaged area is completely covered.
"Knee problems are common and occur in people of all ages," explains Dr. Kuhn. "My practice for the past 15 years has focused on athletic injuries and cartilage repair. Defects in knee cartilage can result from an injury, straining the knee beyond its normal motion, overuse, muscle weakness, general wear, and tear. Too often patients sustain knee injuries that without repair and reconstruction lead to loss of function, pain, and require joint replacement surgery.  As a leading expert in cartilage repair, I am excited to bring this cutting-edge MACI technology and technique to Connecticut which is approved by the FDA for patients age 55 and younger."
The patient on whom Dr. Kuhn will perform the April 20th surgery sustained a knee injury that has caused a great deal of pain and swelling. "An MRI," states Dr. Kuhn, "revealed large fragments of loose bone and cartilage in the knee. Through a scope, we detected a defect for which there are few procedures as effective as the MACI membrane implantation to repair it. The MACI surgery will avoid partial knee replacement as it is a minimally-invasive arthroscopy-assisted technique."
The highly-advanced MACI cartilage membrane surgery is performed in two stages. "In the first phase," Dr. Kuhn explains, "which is occurred a few weeks ago, I harvested a small sample of cartilage cells we took from the patient's knee joint during an arthroscopic procedure.  These are now expanding from several thousand into many million cartilage cells. These cells are then impregnated onto a 3×3 mesh collagen membrane, a thin sponge if you will, and will be re-implanted into the patient's knee filling the cartilage defect. This is an amazing intervention process that, once transplanted back into the knee, will allow rehabilitation to begin immediately.
"The second stage of the MACI process will take place April 20th when the surgery is performed. It will be the first MACI surgery in Connecticut since the FDA approved the innovative procedure. My journey into MACI surgery began 20 years ago when I was fortunate to be part of the initial surgeon group studying cartilage transplantation in the United States. I'm proud to bring this latest innovation to our patients in Connecticut at Orthopedic Associates of Middletown (OAM).
"With this advanced MACI procedure, there are no issues with donor tissues or metal implants required.  For 20 years, I have witnessed the successes on cartilage transplantation in athletes of all levels and I'm excited for this next chapter with MACI's smaller incisions, shorter rehabilitation, and more rapid return to activity." A veteran military physician, Dr. Kuhn has done considerable research on techniques where greater than 70% of patients have returned to high impact activities after surgery. He expects the MACI surgery to report a higher recovery rate. "This MACI technique and procedure is unlike every other synthetic product or donor tissue because this procedure is using the patient's own cells."
A specialist in orthopedic surgery, arthroscopy, cartilage restoration, meniscal transplantation and other surgical procedures, in 2016 Dr. Kuhn brought his highly-respected reputation for cutting-edge technologies and patient-focused care to Orthopedic Associates of Middletown. He will perform the MACI surgery April 20th at the state-of-the-art Middlesex Center for Advanced Orthopedic Surgery (www.MCAOS.com) in Middletown headed by Dr. Paul Schaefer.
"The MCAOS center," comments Dr. Kuhn, "is ideally suited for this MACI procedure because it is an ambulatory-Orthopedic only outpatient surgical center. The staff is friendly, highly trained and offers the ultimate in timely, professional care.  Personally, I have the highest level of confidence having performed even the most complex reconstruction surgeries to be at MCAOS. My trust is so high that my family members have received care at MCAOS and gave the utmost praise to the staff and experienced high satisfaction from the services provided."
Well known in the military, political and professional athletic arenas nationwide, Dr. Kuhn is widely-recognized for his cutting-edge technologies and notable achievements in restoring high functionality and endurance to the arms and legs of soldiers, sailors, high school, college and professional athletes, high-ranking officials, senators and other government personnel. Since 2016, his areas of expertise have included orthopedic surgery, arthroscopy, cartilage restoration, meniscal transplantation, hip arthroscopy, and other specialties with a focus on sports medicine, workers' comp and active lifestyle injuries at OAM. He states, "I look forward to improving the quality of life for my patients with this MACI, and many other, state-of-the-art procedures that I provide."
For more information, visit oamct.com, Facebook, or call 860-CT-ORTHO or contact Conquest at rharrington@conquestsolutions.com (mailto:sgruder@oamct.com) or 860-470-4755.
Source :
Conquest