Fishiding Offers Quality Fish Structures and Feeders
Fishiding, a quality-driven artificial fish habitat product company, provides fish structures and fish feeders for docks.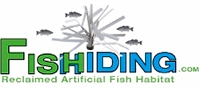 Press Release (ePRNews.com) - Illinois - Feb 23, 2023 - Many things come into play in fish farming, and often this would mean that an artificial home is being created for them. Fishiding is a trusted fish habitat products company providing handmade housing for various fishes, bugs, and the tiniest underwater creatures. The company is regarded as one of the first suppliers of all PVC plastic fish habitat products available on the market. They have been in business since 2008, and their products keep fish safe, stress-free, and healthy. Thus, the fish habitat products company's collection includes shallow water fish habitats, DIY artificial fish habitat structure materials, modular artificial fish habitat mats, Fishiding in barrels, mid-depth fish habitats, and deep & steep terrain fish habitats.
In response to a query about their services, the spokesperson of Fishiding.com commented, "We have a background in architecture, construction, and landscape design. Through our 15 years of experience, we have designed a multitude of exceptional lifelike fish habitat complexes, allowing us to create stress reducing underwater landscapes for fish to call their homes. When we began operations, the only products available were made from a few pipes with no dense areas for fry protection & development. As an innovation-driven company, we continue to lead in the industry of artificial fish habitats. By exclusively using quality and proven reclaimed PVC materials of infinite variety, the textures and shapes we create are simply what the fish prefer."
When reclaimed materials are used to create artificial habitat products, manufacturers will not need to use additional plastics, chemicals, or energy. This process involves re-using existing unwanted materials in their natural form. Fishiding's products have features and benefits such as bending qualities & varying thickness, offering natural protection to fish, while producing ample shade. The fish habitat models they offer are distinct in appearance and are all handmade, as no two units created are alike. They have flexible limbs of many different sizes, thicknesses and surface areas in their artificial fish habitat. These flexible limbs have a fully weighted base and no cables or chains to snag. Therefore, those who want to buy fish structure can consider the services and products offered by Fishiding.com.
The spokesperson added, "We are an excellence-driven company, and we took our time to study and understand what natural and artificial materials can be used for a fish home. Our fish habitats are not difficult to install and do not require additional tools or parts. Our current inventory has a new PVC fish feeder product that will naturally feed your fish without adding feed pellets. This allows natural growing periphyton and algae to attach to the PVC strips. The strips provide vital fish cover, can hold food throughout the year, and do not need replacing."
At Fishiding, customers can reach out to their representatives through their phone line or email address if they have any questions or concerns. People interested in hiding fish habitat can visit their website.
About Fishiding:
Fishiding is a quality-focused artificial fish habitat supply company where people can get fish feeder for dock and other products.
Contact Information:
Fishiding
9011 Ramble Road
Wonder Lake, Illinois
60097
Phone: 815-693-0894
Email: admin@fishiding.com
Website: https://www.fishiding.com/
Source :
Fishiding