Garden Dental & Orthodontics is Offering General Dental And Orthodontic Services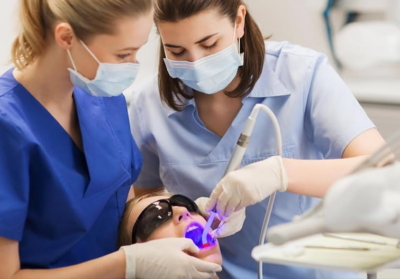 Press Release (ePRNews.com) - Spruce Grove, AB - Jan 21, 2020 - Garden Dental & Orthodontics is keen on helping individuals achieve an infectious smile through its services, which cover the dental and orthodontic segments. The certified dental clinic brings with it years of in-depth industry experience, where they've been able to serve clients throughout Spruce Grove and its surroundings. To further fortify its position in the dental arena, Garden Dental & Orthodontics features in its fold the best when it comes to dental practitioners, an element that has seen them soar to greater heights. The provision of excellent care, reliability, and affordable pricing govern the center's operations, making them the go-to dental hub for all dental and orthodontic treatment solutions.
Speaking about what makes them different, the Dental Clinic's Spokesperson said, "At Garden Dental & Orthodontics, we seek to distinguish ourselves in the market through the provision of industry-approved dental services that will not only see one achieve excellent dental health but also overall health. The way we do this is by understanding every individual problem that comes our way, and working with patients to ensure we remedy the problem at hand as well as other problems that might be associated with the dental problem. Our dental physicians are well-qualified to tackle different problems and can always be trusted to display exceptional care. Whether you're looking to get a simple check-up or come in for an emergency dental problem, you can be sure that we will be here to attend to your needs."
The cost of orthodontics in Canada is determined by a number of variables as different orthodontic procedures require different levels of attention. When one visits Garden Dental & Orthodontics, the orthodontist will conduct a proper examination of the case at hand and provide the patient with all the information they need as it relates to the orthodontic treatment required. Whether it's a braces treatment or even jaw surgery, one can be sure to get value for their money. More details on the cost can be found on the dental clinic's site.
Talking about who they treat, the Dental Clinic's Spokesperson added, "We were established with the primary objective of addressing the society's needs as a whole when it comes to dental treatment. We've never deviated from this goal as we have what it takes to provide treatment for all kinds of patients, from young kids, teenagers to adults. These groups demand special care at every stage, and this is what we offer at all times. Whether it's your young one, your teenager, or your spouse, you're assured of exceptional dental care when you seek our services."
Clients looking to know more about tooth extraction cost can find the same at Garden Dental & Orthodontics' site. Depending on the kind of extraction a patient is qualified to undergo (simple extraction or surgical extraction), the dentist will see to it that they are well-informed, with all the relevant details availed to them in time. Their tooth extraction is worth every dime, with individuals guaranteed the best care throughout the procedure.
 About Garden Dental & Orthodontics
Garden Dental & Orthodontics is focused on providing individuals in Spruce Grove with the best dental services. They utilize modern dental equipment and treatment approaches and can be trusted to deliver exceptional results.