Goran Visnjic Shares Photos from his Vacation on Hawaii
Last week, Hollywood actor Goran Visnjic shared a photo on his Instagram from his vacation on Hawaii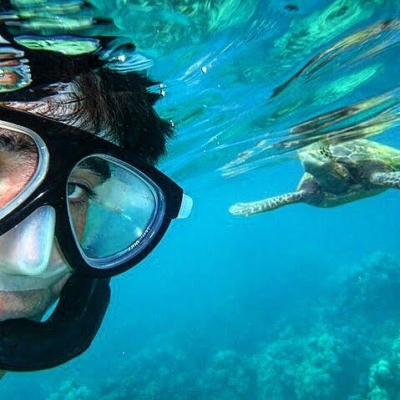 Press Release (ePRNews.com) - Los Angeles, CA - Aug 25, 2017 - Goran Visnjic's friends and followers were delighted with his underwater adventure. The actor dived into the Pacific Ocean while staying in the second-largest Hawaiian island Maui.
– I bet it's pretty relaxing to be under the surface, surrounded by various sea creatures. No worries, no stress, nothing – wrote one of his friends.
Goran Visnjic, the famous Croatian-American actor, returned to the US after he finished filming the 'General', a feature film and TV series about the life of Croatian general Ante Gotovina.
However, before moving on to his next project, Visnjic decided to treat himself with an unforgettable trip to Hawaii, and recharge his batteries. The actor is currently vacationing there, preparing himself for new work victories.
After that, Goran Visnjic is traveling back home, as he is supposed to start shooting the second season of the time drama series 'Timeless'. Even though Visnjic plays the series villain Garcia Flynn, he still prefers to call his character the "antagonist". He is not saying he's not a bad guy, he is just saying he is a mystery.
Recently, Shawn Ryan and Eric Kripke, the executive producers of 'Timeless', met with the series stars Abigail Spencer, Matt Lanter, Malcolm Barrett and Goran Visnjic, in order to discuss what's next for the time-traveling fan-favorite show. Two months after the series cancellation and unexpected return in a surprising twist of events, the entire cast reunited and showed their appreciation towards the fans at San Diego Comic Con.
'Timeless' was the only time-travel show that survived the freshman cancellation, and it is all thanks to its loyal fan base that stood up against its demise and made their voice known. One of NBC's executives even told the press that the main reason for their change of hearts was the fans' fervent request to give the series another chance. In the end, everything worked out for the best, as the network decided to bring back the show.
After their decision, NBC immediately ordered another season of the freshman sci-fi drama. The network approved only 10 episodes, which is less than a traditional renewal order, but fans, as well as the series stars, are pretty confident that this won't be the last season of the phenomenal show that takes the audience emotionally to a completely different place and time each week.