Governor Greg Abbott Tours Round Rock ISD Classroom to See New Early Math Program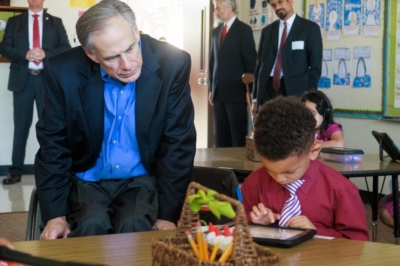 Press Release (ePRNews.com) - AUSTIN, Texas - Feb 17, 2017 - Texas Governor Greg Abbott visited Robertson Elementary in Round Rock ISD today to learn more about an early learning math program called Blueprint. More than 120 kindergarten and first-grade students at Robertson now use Blueprint, which is a new online solution that builds conceptual understanding through educational animations, instructional exercises, and detailed explanations. Blueprint was designed by expert mathematicians and teachers at award-winning education nonprofit, Reasoning Mind, and is the organization's first program specifically created for early learners.
At Robertson Elementary, the Governor and his team attended a brief program overview, followed by a visit to Ms. Traci Keffales' kindergarten classroom to observe Blueprint in action with students and teachers. The event concluded with a short teacher panel, where educators shared their thoughts on Blueprint and the ways in which it supports their instructional goals.
"Blueprint takes my instruction to the next level," said Ms. Keffales during the panel. "The data is key."
Governor Abbott made early childhood education a focal point upon taking office in 2014—at one point declaring the improvement of pre-K through third-grade education his top "emergency legislative priority". Research has consistently borne out the benefits of quality early childhood education, and early math skills in particular have been shown to be one of the best predictors (http://www.greatschools.org/gk/articles/early-math-equals…) for later academic success.
Reasoning Mind math programs, including Blueprint, are used by over 100,000 students in Texas alone—thanks in part to funding awarded by the 84th Texas legislature. A 2015 independent evaluation (https://www.reasoningmind.org/rmwp/wp-content/uploads/201…) by the Education Research Center at Texas A&M found that students' scores on state assessments and algebra-readiness indicators increased after using Reasoning Mind programs. In addition, the report found overwhelming program approval by students, teachers, and administrators.
"A quality math education puts kids on a path to college and career success," said Reasoning Mind Central Texas Executive Director and Round Rock ISD alum, James Talarico. "We are passionate about giving all students this opportunity, and grateful that the Governor sees early math education as a priority. We are also so thankful for our partnership with the educators at Robertson, who are truly exceptional teachers committed to their students' development."
Source :
Reasoning Mind

Business Info :
Reasoning Mind
2000 Bering Drive, Suite 300
Houston, Texas - 77057 United States
Phone: 281-579-1110
Website:
http://www.reasoningmind.org