Haitian Music Pioneer, Patrick Handal Remakes his Classic Hit "Ti Bway"
"Haitian Music Pioneer, Patrick Handal Formerly of the Band Skandal to Remake The Band's old Classic Hit, Ti Bway."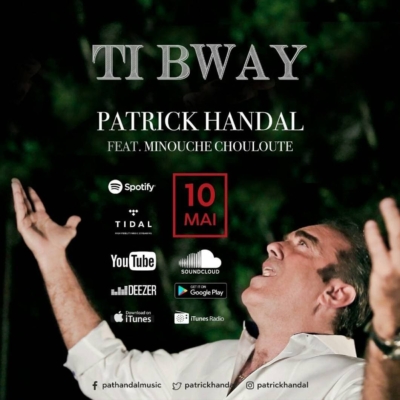 Press Release (ePRNews.com) - PORT AU PRINCE, Haiti - May 10, 2017 - Award-winning Haitian music singer, Patrick Handal to release the remake of his hit song "Ti Bway" on May 10th 2017, with its accompanying video for the first time. The song which will be featured on his upcoming album titled "50 Kob" also features up and coming artist, Minouche Chouloute who made her singing debut in the Haitian music industry as a contestant at the 2010 Digicel Stars competition series.
Ti Bway is the second single released by the singer from his upcoming solo album. After the release of the first single "Santim Wo", Patrick Handal carefully spent the last year crafting the new songs with the same concept he and his band mates from Skandal used in the past; making good and vibrant music that everybody can enjoy listening and dancing to.
When asked why he decided to remake this particular song: "I chose to remake "Ti Bway" because it's timeless. With this song, I can make the same impact that Skandal made in the late 80s with the "Nouvelle Génération" album."
Skandal—the male trio band whose members comprised of, Patrick Brun, Patrick Handal and the late John Doane—originally released "Ti Bway" in 1989 on their debut album; in a last minute decision because they felt the song wouldn't have made any impact. As luck would have it, the song became an instant success. They went on to earn the "Maracas d'Or" award in Paris for best Caribbean album that same year, and to this day, the song is still on heavy rotation on the airwaves in the Caribbean and French market.
Patrick Handal is continuously hard at work on his highly anticipated new full length solo album. The album will be released under the label, Pique & Trefle LLC., Fall of 2017. In addition to new music, Patrick will be doing a lot of interviews and working on his social media platforms to bring special exclusive content to his fans. You can follow Patrick on social media with the handle @patrickhandal
[END]
For more Information or to download the audio and video click here below.
http://berelations.com/haitian-music-pioneer-patrick-hand…
Source :
B.E. RELATIONS, LLC.

Business Info :
BE RELATIONS Public Relations & Marketing.
New York - 01121 United States
Phone: 212-851-3904
Website:
http://berelations.com