Healthier Way Launches Gluten Free Sweet Potato Flour And Pancake Mix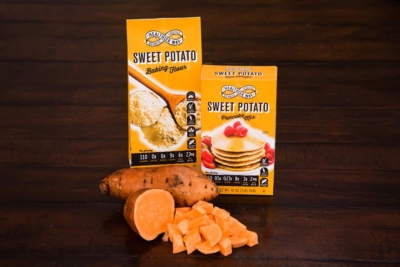 Press Release (ePRNews.com) - WEBSTER, N.Y. - Mar 22, 2017 - Healthier Way Foods LLC is proud to announce the launch of its first two products; Healthier Way Sweet Potato Flour and Healthier Way Sweet Potato Pancake Mix. The sweet potato flour is gluten free, non gmo, high in fiber and a good source of iron and will provide a nutritional boost to both baked goods and sauces. The sweet potato pancake mix is gluten free, a good source of both fiber and iron, easy to use and provides a nutritional boost so you start your day in the best possible way.
Healthier Way uses the very best Covington sweet potatoes from our partner, Ham Farms in Snow Hill North Carolina. Ham Farms have been growing, packing, shipping and processing the finest sweet potatoes and sweet potato products on the market for over 40 years.
Both the sweet potato flour and pancake mix are now available at Wegmans, voted Americas favorite supermarket and online at Amazon, with further stores to be added throughout 2017.
Healthier Way was established by founder Ian Cox and CEO Daniel Rao. Ian and Dan plan to expand on Healthier Way's exciting start by launching further products in 2017. "Healthier Way is young, dynamic company with exciting growth protentional" stated Dan Rao. "More and more people are understanding the huge benefit of eating nutrient rich foods, which is something Healthier Way is committed to providing but in a way that is both convenient and easy to cook with."
About Healthier Way
From its humble beginnings as a health book, Healthier Way now supplies tasty, nutrient rich ingredients direct to your table. We source the best quality ingredients to provide a healthy boost to your everyday meals, snacks and treats. Our gluten free sweet potato pancake mix and sweet potato flour captures all the goodness and taste from our domestic sweet potatoes in products that are easy and convenient to use. So, no matter if you want to train for a marathon or just give your family tasty, nutrient rich meals and snacks healthier way is there to help show you the way. http://www.healthier-way.com
About Ham Farms
If there was a sweet potato capital of the world, it would be Snow Hill, North Carolina and if there was a Sweet Potato Man, it would be Bobby Ham. For over 40 years, The Ham Family has been committed to growing, packing, shipping and processing the finest sweet potatoes and sweet potato products on the market. Currently Ham Farms ships locally, nationally, and even exports to more than 16 countries worldwide.
Now, The Ham Family supplies not only fresh produce, but processed goods as well. In the past 5 years the Ham Family, has opened Natural Blends Vegetable Dehydration, YAMCO, and Covington Spirits, which allows for 100% utilization of the produce we grow. We believe that fresh and processed products are best when they come from a happy family and a happy earth. http://www.hamfarms.com
Source :
Healthier Way Foods LLC