Hollywood Racks Launches New Hitch Rack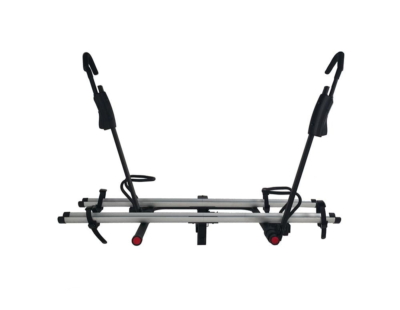 Press Release (ePRNews.com) - LOS ANGELES - Jan 10, 2017 - Hollywood Racks has launched a new platform rack system called the TRS (Tire Retention System). The TRS is the newest product in Hollywood Racks' 44-year history, and the first of several 2017 releases.
The TRS will carry two bikes weighing up to 50 lbs each. The rack features aluminum trays with integrated front and rear wheel ratcheting straps that fit 20mm to 4.5″ wide tires. The front tire hook has additional spacing to eliminate contact with oversized forks. The TRS uses a quick release spring system to tilt the rack down and fold if up flat when not in use. Fits both 1 ¼" and 2″ hitches
MSRP:$329.99
For more information head to: www.hollywoodracks.com/trs
New and existing Hollywood Racks dealers can contact info@hollywoodracks.com or 800-747-4085 to receive ordering information.
Hollywood Racks started in 1973 when we began making trunk-mounted racks in the back of our bike shop in Hollywood, California. Our aim was simple: We wanted to make good quality products that were easy to use and came fully assembled. We earned a great reputation fast and soon began selling our racks to other bike shops throughout California. By the late '70s, we began selling our racks to bicycle companies such as Schwinn, Peugeot and Nishiki. In 1981, we closed the bike shop and opened a small factory in Los Angeles, CA to exclusively make car racks, then relocated to a larger facility in 1988. In 1989, we began exporting our products to Europe, and in the 1990's we expanded our line to include racks for trailer hitches, pickup trucks and spare tires. We have since relocated our offices, R&D and US warehouse to our present facility in the Los Angeles area with manufacturing in Taiwan. Our products are available in all 50 states and in over 25 countries worldwide.
Source :
Hollywood Racks

Business Info :
Hollywood Racks
United States