Hotel ESJ Verde breaks ground in Isla Verde, Puerto Rico
First of two new, sustainable ESJ Collection hotels pays homage to the heyday of the Puerto Rico tourism industry of the 1920s and signals its looming revival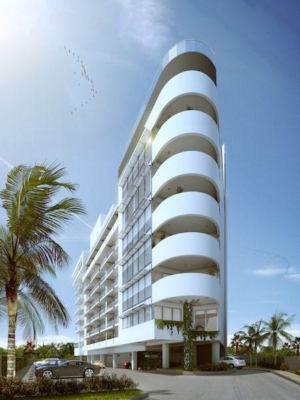 Press Release (ePRNews.com) - SAN JUAN, Puerto Rico - May 25, 2017 - Construction began on Hotel ESJ VERDE, the second of three new ESJ Collection Hotels in Isla Verde, Puerto Rico. The 3-star, property, developed by renowned hotelier Keith St Clair, designed by Alvarez-Diaz & Villalon® (AD&V®, San Juan/ Miami), and built by F&R Construction, is the first new hotel to be built in Isla Verde in 25 years. It will comprise 71 studios, 29 one-bedroom, and 7 two-bedroom suites on 10 levels.
A part of ESJ Collection's three-project concept, ESJ VERDE will be followed by ESJ NOIR, the company's 5-star hotel, also designed by AD&V®, currently in the design development stage. Collectively, the three properties will create an ESJ Collection Resort, comprising approximately 700 rooms and the first of its kind in Puerto Rico.
Located on the picturesque Isla Verde Beach, ESJ VERDE is designed to meet the needs and demands of a new generation of guests by offering an authentic Puerto Rico experience and a real interaction with the local culture. The hotel's design simultaneously pays homage to the heyday of the Puerto Rico tourism industry of the 1920s through a subtle use of tropical Art Deco elements, and signals its looming revival with sleek, contemporary lines reminiscent of a pedigreed ocean liner. Inside, the studios and suites will be outfitted with king or queen sized beds, seating and dining areas, and quality appliances, including a full refrigerator, microwave, and full range or cooktop appliances. The units will feature ample glass curtain walls that provide natural sunlight and beautiful beach views. The hotel's ninth floor, terrace, will feature recreational programs, such as a bar area, swimming pool, gym, and multi-use space for events.
Living up to its green name, ESJ VERDE features eco-conscious building systems, materials, and furnishings including low and zero VOC paints, coatings and primers, recycled material textiles and carpets, high-efficiency plumbing fixtures, low consumption LED lighting fixtures, and a high efficiency A/C system. Native and adaptable landscaping was selected to meet low water demand requirements. A boardwalk, designed to have a minimal impact on the surrounding environment, will eventually connect all three properties.
"We strive to convey a sense of place, cultural context, history, and architecture in each of our projects," said Ricardo Alvarez-Diaz. "With VERDE, our aim was to capture the spirit, feel, and culture of contemporary Puerto Rico, which is steeped in history but not stuck in the past and is progressive and ready to push toward its full potential."
Hotel VERDE is scheduled for completion in the summer 2018.
About AD&V
Alvarez-Diaz & Villalon is dedicated to advanced design and energy-efficientsustainable architecture and interior design that enhances people's experience of the world and improves their lives.
Founded in 2001 and spearheaded by the award-winning husband-and-wife team
of architect Ricardo Alvarez-Díaz and interior Designer Cristina Villalón, AD&V® has become one of the most innovative architecture and interior design firms in
Latin America.
The firm has garnered national attention for its holistic approach, forging a reputation in design that is both environmentally responsible and richly appealing to the senses. The firm's portfolio includes multifamily, hospitality, commercial, institutional, retail and residential work. AD&V serves clients from offices in San Juan and Miami.
More information: http://www.alvarezdiazvillalon.com/project/verde-hotel-an…
Source :
Alvarez-Diaz & Villalon