Hullabaloo Shoes Goes Live On-Line!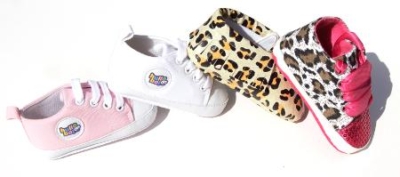 Press Release (ePRNews.com) - MACCLESFIELD, England - Oct 10, 2016 - Hullabaloo Baby Shoes Launches Handmade Baby Shoe Boutique
UK-based online boutique offers unique baby shoes for girls and boys
OCTOBER 10, 2016 – The team at Hullabaloo Baby Shoes is thrilled to announce that they have officially launched. The company offers a boutique selection of handmade and unique baby shoes for boys and girls.
Shoppers can now visit the Hullabaloo Baby Shoes website to view the company's selection of premium quality, handmade baby boy and girl shoes. The UK-based boutique offers a darling selection of baby shoes at affordable prices.
Hullabaloo Baby Shoes offers their unique baby shoes via their website and on eBay. At the company's website, shoppers can find gift certificates, a wish list maker, and the opportunity to create an account for ordering and shipping tracking.
When shoppers sign up for the Hullabaloo Baby Shoes newsletter, they will receive exclusive updates and deals via their e-mail inbox.
The Hullabaloo Baby Shoes team is proud to offer a premium quality, handcrafted selection of baby shoes that can be used as "baby's first shoes", a baby shower item, or anything in between. Some shoppers might even find creative ways to decorate gift baskets for new moms or birthday showers using Hullabaloo Baby Shoes.
More information can be found at http://hullabalooshoes.co.uk/.
About Hullabaloo Baby Shoes
Hullabaloo Baby Shoes is a UK based online boutique offering unique, handmade baby shoes for boys and girls.
Contact
Hullabaloo Baby Shoes
Phone: 07490 98 50 50
E-mail: info@hullabalooshoes.co.uk
Website: http://hullabalooshoes.co.uk/
Facebook: https://www.facebook.com/Hullabaloo-Shoes-1048379918611922/
Twitter: http://www.twitter.com/hullabalooshoes
Source :
Hullabaloo Shoes