Bespoke Handmade Leather Shoes Now Available in India with Convenient Delivery Options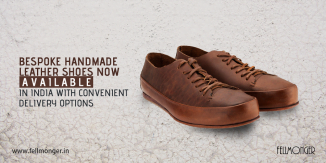 Press Release (ePRNews.com) - NEW DELHI, India - Feb 10, 2017 - As the story goes Fellmonger was born out of a unique vision to give Indian shoe wearers a taste of world class quality through luxury leather footwear at affordable price range. The founder of the business Gaurav Bhatia has always been passionate about leather and was quick to see a room for growth and some much needed change in this space and hence, established his company Fellmonger.
At Fellmonger, the representatives state that they are mainly concerned about easy-to-shop collections for men's shoes, which come straight from the artisan shoemakers of India, no third party shoe costs, no middle men, no brand name mark ups, simple and straight.
Fellmonger's CEO and founder Mr. Bhatia spoke about their business philosophy which is, "To offer timeless design, with impeccable quality, the best in class craftsmanship and everything else that one would like in their perfect leather shoe, but at a price lower that what one would expect".
The company works towards passing these handmade jewels of shoes straight to the customers, thus, giving what they want at less than half the price through the routes of traditional retail incorporated with convenient internet avenues.
At Fellmonger one can find, all of the definitive men's shoe collections from the Oxfords to the Chelsea Boots, and each Fellmonger masterpiece promises to be a real classic. While style is a major thing for these specialty shoemakers, they do impose a lot of concern for the functionality and comfort aspect of the shoe. They believe that a good quality shoe is not just a purchase but an investment, the right leather shoe is a companion for the long-term through the travails of life passing seasons. Fellmonger shoemakers also deeply believe in transparency in operating a business during the millennial era and work towards building trust and credibility with their customers.
Leather shoes are almost a forgotten art and Indians have almost done away with luxuries that the rich history of the nation is known for. Fellmonger as a brand wants to make their way into the hearts of shoe-shoppers in India and the world by bringing back the luxuries that Indians deserve.
About The Company:
Fellmonger is a newly opened designer leather shoe brand that specializes in all things leather. They offer handcrafted leather shoes and accessories for the modern consumers with a difference. Each shoe they sell has meticulous labour and attention to detail from the start to finish and the founder of the company Gaurav Bhatia has put in a lot of hard work to create some of the best quality footwear for men in India.
Get More Details, Visit: http://www.fellmonger.in
Contact Details:
Corporate Office:
Monkraft Inc.,
FA-32, Ground Floor, Mansarover Garden, New Delhi- 110015, India.
Email: support@fellmonger.in
Phone: +91-11-65373756
Source :
Fellmonger

Business Info :
Fellmonger
FA-32, Ground Floor, Mansarover Garden, New Delhi- 110015, India.
Mansarover Garden, Delhi - 110015 India
Phone: +91-11-65373756
Website:
http://www.fellmonger.in