Indusgeeks is Offering Corporate Game Based Training and VR Training Solutions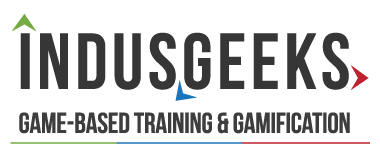 Press Release (ePRNews.com) - San Jose, CA - Oct 03, 2017 - Situated in San Jose, CA, Indusgeeks is a leading firm that provides virtual reality training solutions, game-based corporate training, gamification, and customized business simulations to all types of industries and procedures. Indusgeeks gamification solutions and game based learning are LMS attuned, cut-rate, compatible with smartphones, PCs, laptops, and tablets, future ready, and can be ported to several AR and VR devices. Indusgeeks has the expertise as well as a notable client selection due to their capacity to convert their training content into more gamified, collective, exciting, and sequence-driven experiences.
Speaking about their Lead Ready product, the Head of Sales and Marketing said, Lead Ready is our firm's platform for 3D immersive, leadership simulations and games that utilize a blend of gamification methods, game based training and scenario based learning to advance leadership qualities in promising administrative leaders. The Lead Ready platform can offer for self-paced learning, instructor lead training, and peer to peer training modules."
Those looking for companies that make virtual reality training programs ought to consider Indusgeeks.The gamification firm has nine years of expertise in game-based virtual training development. They can create from high-end devices like the Oculus Rift and HTC Vive to low-cost VR solutions, virtual reality learning, augmented reality training, and onboarding solutions that are interactive and immersive for each type of learner to teach a wide variety of business training content, irrespective of business demographic, company vertical or procedure.
Speaking at a corporate event, the Chief Executive Officer said, "If you are looking for customized business simulation training-look no more. At Indusgeeks, we know that business simulations and simulation based learning are greatly valued tools to help in training learners on all difficult subject matter in the most hands-on technique. So, we utilize our affluence of experience to produce simulation based training solutions personalized to your training need and demands. Indusgeek's simulations are CMS/LMS responsive to aid in offering smart analytics about user activity, stage of learning, and advancement in the direction of business objectives. Clients, as well as companies who have used our simulation based learning and customized business simulation, have gained considerable advantages to their learners, covering greater knowledge preservation, enhanced productivity of learning fresh concepts and materials, and an overall augmentation in learner satisfaction."
All Aboard is also one of the company's products, and it is a brilliant illustration of the immense capacities and prospects that they as a gamification business have to provide.  All Aboard is an opulent, responsive 3D induction and onboarding gamification solution for freshly employed staff that demonstrates to them their work atmosphere and the across-the-board stakeholders at each stage. All Aboard lets for self-paced learning or ILT while it's immersive characteristics provide greater retention and lessens the duration for new staffs to get up to speed hence enhancing productivity which saves costs.

About Indusgeeks
Indusgeeks is a leading firm that provides corporate game based training and gamification solutions thus those looking to find corporate training games can contact them and get more information.
Source :
Indusgeeks