Indusgeeks Offers Game Based Elearning, Game Based Training Software and Serious Game Development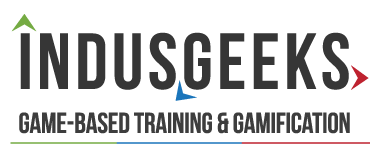 Press Release (ePRNews.com) - San Jose, CA 95123 - Jun 08, 2018 - Indusgeeks is a gamification company that seeks to change the way businesses carry out their day-to-day activities through empowering the employees with the needed knowledge and skills to tackle any hurdle that might come their way. The company achieves this goal through their game based training, business simulations and gamification solutions customized to meet the needs of various of industry process and types such as safety & compliance, policy awareness, leadership development and sales & soft skills training among others. They enjoy over eight years of hands-on experience; a period in which they've been able to work with defense organizations, Fortune 1000 companies and governments from all around the world.
Explaining further about their customized gaming solutions, the Head of Software Development said, "Indusgeeks is always looking to be as resourceful and innovative as possible, and this can be seen through the solutions we provide our clients with on a day-to-day basis. Our game based learning and gamification programs come at affordable prices and have been developed for both desktop and mobile devices. They are future ready, compatible with a ton of Learning Management Systems, and can be ported to various VR and AR devices. With our expertise in developing interactive training content and delivery frameworks, you can be sure that we're the right partner when it comes to training your millennial workforce."
When it comes to game based eLearning, one is assured of the best solutions at Indusgeeks. As one of the top game based e-learning and game based training firms, they've leveraged their expertise to come up with highly effective, personalized e-learning solutions that are most effective for one's specific training and learning requirements; putting into consideration skill, industry and user demographic. The company's capability to provide superior e-learning solutions has seen them work on a variety of projects which include Grandmasters of Influence, Plopia, Real Time Leadership Center and Cultural Cognizance. These projects go to extreme lengths to show the real potential of customized e-learning solutions in today's modern world.
Speaking about their game based training software, the Head of Software Development added, "Our game based training software has been designed to help train learners on intricate subject matter in the most efficient manner possible. Through our solutions, clients have discovered great benefits which include improved efficiency of learning new materials and concepts, improved knowledge retention, as well as an overall improvement in learner satisfaction. With our game based training software, one can boost their efficiency, reduce training time while at the same time increasing productivity levels."
Indusgeeks has over the years been famed for their serious game development solutions that have been designed to promote certain behavioral patterns in learners. Serious games can be made social and collaborative where companies or educational institutions create instructor-led or peer learning modules that can then get distributed to learners throughout the world in real-time. Indusgeeks has been able to develop serious games for varied training needs across industries and marquee clients such as Max Life Insurance, Infosys, Cognizant Technologies, and Essar Oil & Gas, etc. Clients can visit their website for more details on these solutions.
About Indusgeeks
Indusgeeks is a top-rated gamification company that's focused on helping businesses achieve high employee retention and business productivity. They offer unique game based solutions, and one can be sure of excellent results when they partner with the company.
Source :
Indusgeeks USA, Inc.