Indusgeeks Promotes eLearning Gamification Solutions for Clients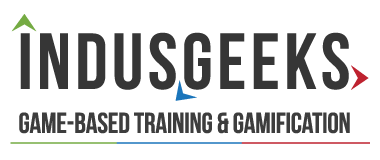 Press Release (ePRNews.com) - 5450 Thornwood Dr. Ste. #L San Jose, CA 95123 - Nov 01, 2017 - Indusgeeks is an award-winning corporation that designs and creates an automated business simulation and gamification solutions. It makes game-based training programs, for all the types of industries and processes including; leadership development, safety and compliance, policy awareness, soft skills and sales training and onboarding and induction for many different businesses, organizations and learning institutions.
Launching a new product line, CEO, Sid Banerjee said, "Indusgeeks provides game-based learning layered with gamification tools at cost-efficient prices. These solutions are LMS compatible and can be created for both desktop and mobile devices. Our technology-driven solutions can be supported by VR and AR devices too. For ten years we have had the privilege of helping Fortune 1000 enterprises, military organizations, and governments globally to change their training material to more gamified, immersive, interactive and narrative-driven content. Our expertise in designing, developing and deploying engaging training materials make us the right partner to offer training to your entire millennium workforce."
If you are looking to find corporate training games, Indusgeeks has high-quality gamification and game-based solutions for corporate growth. For the last ten years, Indusgeeks has partnered with corporations, academic institutions and governments to transform the current learning content into exciting, immersive game-based learning. They even created innovative sales training solutions using gamification and game-based learning. This helps engage learners and capture their attention. Using their proprietary platform for content transformation, INIT, the organization can build tailor-made gamification and game-based solutions for several collective training processes.
Explaining further how the INIT platform for content transformation works, Banerjee said, "Indusgeeks is one of the fastest growing elearning gamification company. INIT,  (Interactive Immersive Training) is our proprietary platform through which we create high-quality games that drive learning through simulation-based training, and the gamification solutions that serve to change the learners existing Web Based Training (WBT)/elearning content into, interactive gamified solutions, which engage with its users resulting in enhanced learning, enhanced retention, and high productivity."
Indusgeeks armed with ten years experience in creating games for training, has experience designing soft skill games as well as games for sale-training. The INIT platform enables a highly interactive learning experience making it more effective for the trainee and results in driving up performance and productivity. Indusgeeks is among the world's forefront gamification companies, for the sales-training simulation and training for a variety of other business processes. It uses its expertise to create highly effective, custom-made simulations for corporate training catering to its clients specific gamification needs: factoring in the industry, skills, and group of users.
About Indusgeeks
Indusgeeks is a company that has been in the gaming industry for 10 years; the enterprise creates business simulations, game-based training, gamification solutions for many businesses, academic as well as government institutions. The company uses INIT a platform for content transformation to change clients existing eLearning/Web Based Training (WBT) material into needed content that will make interacting with learners more valuable thus resulting in better learning, improved retention and transformation to higher productivity.
Source :
Indusgeeks