InSync Microproducts to be the exclusive distribution partner for Extenua SilverSHielD-Gov SFTP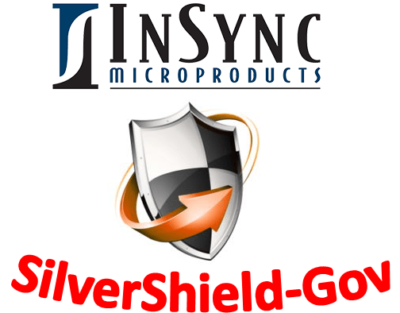 Press Release (ePRNews.com) - SAN JOSE, Calif. - Feb 16, 2017 - InSync Microproducts, a Silicon Valley based technology solutions innovator, and Extenua are pleased to announce SilverSHielD-Gov. SilverSHielD-Gov will be distributed exclusively from InSync Microproducts and is available immediately at https://insyncmicro.com/home/485718-silvershield-gov.html and yearly maintenance is available at https://insyncmicro.com/home/485719-silvershield-gov-maintenance-license-one-year-maintenance.html
"SilverSHielD is already a popular SFTP (Secure File Transfer Protocol) software and we are pleased to enhance the capabilities with SilverSHielD-Gov" explained Steve Viscotti, CEO at Extenua. "With InSync Microproducts extensive expertise in network storage they have been able to identify a significant Government requirement and, working together, we developed SilverSHielD-Gov based on true customer needs."
Key feature highlights of SilverSHielD-Gov include the following:
· An easy-to-use, powerful and reliable SSH2 and SFTP server
· Implements a full US Department of Defense 5220.22-M File Wipe Method
· Can create a PCI or HIPAA compliant file transfer system with ease
· Backup Cisco UC platform in an integrated fashion without complication
SilverSHielD-Gov's potential usage in various highly regulated markets goes far beyond just Government and into such industries as Healthcare, Financial Services or Human Resources. While engineered with some of the highest standards and regulations for adherence of Federal Government security standards, there is no reason why this same level of security cannot be applied to other industries.
"Most of us hear about major data breaches almost on a daily basis and cyber-hacking is clearly on the rise so organizations must be prepared.", said Bill Orlowski, Director of Marketing at InSync Microproducts. "InSync Microproducts is uniquely qualified to offer one of the most secure network, as well as storage, platforms in the industry and this starts with SilverSHielD-Gov as a core part of our strategy for many reasons."
SilverSHielD-Gov will debut at the ATARC Federal Cloud & Data Center Summit on February 16, 2017 | Marriott Metro Center | Washington, DC.
InSync Microproducts Media Relations Contact | E-mail: media@insyncmicro.com | Voice: (844) 605-8196
About InSync Microproducts
InSync Microproducts, a Silicon Valley based innovator, provides secured storage, HPC and Cloud solutions. InSync Microproducts offer a comprehensive portfolio of products from Servers and Workstations to integrated, turn-key HPC Clusters and cluster management software.
About Extenua
Extenua technology dramatically improves the way companies handle data security management and secure cloud access. Our Mission: To be the world's leading innovator of trusted enterprise security & cloud storage access. We are challenging the conventional, for extraordinary outcomes.
Source :
InSync Microproducts