International Workshop on Fighting the Illicit Trafficking of Fraudulent Medicines in Africa
The Pan African Chamber of Commerce and Industry to organize an International Workshop on Counterfeit Medicines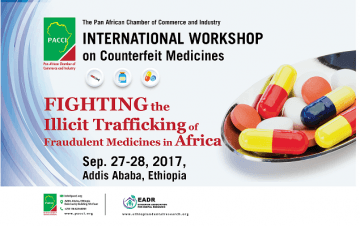 Press Release (ePRNews.com) - ADDIS ABABA, Ethiopia - Jun 13, 2017 - The Pan African Chamber of Commerce and Industry (PACCI) is organizing an International workshop on "Fighting the Illicit Trafficking of Fraudulent Medicines in Africa" on September 27-28, 2017 at United Nations Conference Center in Addis Ababa. The workshop is organized along the International Dental Conference of International Association for Dental Research taking place on the same period.
Counterfeiting medicine has attained the status of being a global problem' said Mr. Kebour Ghenna, Executive Director of PACCI. 'The growing issue of counterfeit medications is a concern not only for the patient, but also for healthcare professionals, governments and pharmaceutical companies by in large' explained Kebour.
It is believed that increasing access to the Internet coupled with new methods of manufacturing and distributing illegal pharmaceuticals have created new challenges to safeguarding the legitimate pharmaceutical supply chain. Yet, despite recognized dangers to global public health, reports compiled by public and private stakeholders including law enforcement, regulatory agencies, manufacturers, and customs officials show that the scope, production, distribution and sales of substandard, spurious, falsely labeled, falsified, counterfeit medicines continues to increase.
'The planned workshop aims to bring together key business partners to discuss and recommend ways of preventing the distribution of counterfeit drugs in Africa' says Mrs. Mahlet Yebeka, Event Coordinator at PACCI. 'In terms of thematic actions the meeting intends to identify and discuss strategies used by leading pharmaceutical companies to combat counterfeit drugs and understanding the impact of the proliferation of internet pharmacies on business and societies in Africa' she further notes.
The workshop is expected to attract some 200 participants from Africa, the Middle East, Asia, Europe and the US. The event is also expected to strengthen those existing relationships with relevant ministries to establish or continue existing dialogue to remedy an apparently increasing counterfeit problem and seek to raise awareness to representatives of government and pharma-industry on the latest strategies and methods used to fight counterfeit drugs by pharmaceutical industry.
For more information, please visit us at http://pacci.org/index.php/workconf/international-worksho…
Source :
Pan African Chamber of Commerce and Industry

Business Info :
Pan African Chamber of Commerce and Indusrty
Addis Ababa Addis Ababa
Addis Ababa, Addis Ababa - +251 Ethiopia
Phone: +251911917731
Website:
http://www.pacci.org