Introducing the Big Chill! CREAM Sandwiches Are All Grown Up with New Ice Cream Sandwich Cookie Cake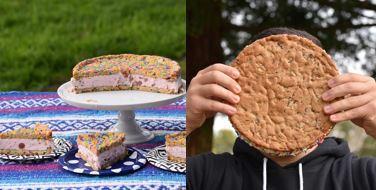 Press Release (ePRNews.com) - LOS ANGELES - Mar 06, 2017 - On Wednesday, March 8, 2017, CREAM (https://creamnation.com/), which stands for 'Cookies Rule Everything Around Me,' launches the NEW Ice Cream Sandwich Cookie Cake as a permanent menu item.Magnifying the brand's signature Ice Cream Sandwiches to make them bigger and better than ever, customers can select any of CREAM's proprietary ice cream flavors to place in between any giant, warm, freshly baked CREAM cookie. "Cakes are such a big part of any celebration, from birthdays to graduations to anniversaries and CREAM wants to give people a new way to celebrate," states Gus Shamieh, president and founder of CREAM. "We are taking the shareable CREAM experience to the next level."
CREAM'S "build your own" approach allows customers to choose from 17 cookie flavors including Chocolate Chip, White Chocolate Macadamia, Peanut Butter and Snickerdoodle, with moreinnovative offerings including CREAMfetti, Toffee Nut or Carnival Cookies. CREAM cookies can also be made gluten-free and vegan. To add inside of the supersize cookies for CREAM's Ice Cream Sandwich Cookie Cakes, more than 20 super-premium ice cream flavors are available, including Banana Walnut Fudge, Birthday Cake, Chocolate Chip Cookie Dough, Cin-ful Churro and Strawberry Cheesecake and special seasonal flavors that rotate annually.
All CREAM Ice Cream Cookie Cakes can be personalized with a wide variety of toppings, both on the inside or on the outside edges, and can be made-to-order, allowing 36-48 hours for completion. Those looking for pre-made cakes to grab on-the-go can call any CREAM location to check pre-made flavors available.
In addition to the option of creating an Ice Cream Sandwich Cookie Cake, and customer favorite Ice Cream Sandwich, at CREAM, customers can also select from Brownies, Do'sants, a donut/croissant hybrid, and made to order Waffles. Additionally, Floats, Malts, Milkshakes, Sundaes, to-go pints, and the infamous CREAM Taco, which includes any three ice cream flavors and any two toppings placed inside a freshly baked waffle cone, are available to guests at all CREAM locations.
For more information, including CREAM locations, please visit creamnation.com or call (954)385-4937. CREAM is also on Twitter at @CREAMNATION, on Instagram at @CREAM_NATION
ABOUT CREAM:
CREAM, or 'Cookies Rule Everything Around Me', was founded in 2010 in Berkeley, California CREAM was created to share family recipes from founders Jimmy and Gus Shamieh. With 25 locations throughout California's Bay Area, Southern California, Florida, and Nevada, CREAM currently has 40 new stores under development. With franchise opportunities offered since 2012, CREAM is a rapidly growing franchise organization that demonstrates the ideal intersection of a family owned and professionally run business.
Source :
CREAM, Inc.

Business Info :
CREAM, Inc.
United States